Myles J, the Place Where Southern Cuisine and Fine Dining Starts in Houston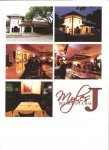 www.mylesj.com) is Houston's new eatery for the swank and trendy set seeking elegant and tasty Southern cuisine with social ambiance. The menu offers the unique fusion of Southern comfort foods with a Cajun-Creole twist.
Entree presentations are beautiful done.  It shouldn't be a surprise; given the pedigree of talent that executive chef Sean Perrodin brings to the table. Chef Perrodin has worked in renowned restaurants in Houston such as Massa's Seafood Grill and Brennan's of Houston. He is the founder and owner of The Culinarian, A Catering Connoisseur, a catering company established in 2001.
Some of the outstanding menu offerings are: The well seasoned Filet Mignon Beef Tip Martini features tender, braised beef chunks simmered in country brown gravy, served with garlic mashed potatoes and accented with an asparagus spear is a standout dish. And the chocolate Godiva pecan brownie and fresh strawberry martini is sinfully wonderful. The warm Georgia peach cobbler a la mode puts you into the comfort mode at Grandma Bessie's Sunday dinner table.
Myles J wears two hats. During the day, the dining hall features a signature wine bar with an extensive wine list and the best spirits. At night, Myles J opens the second bar, a cocktail bar and lounge located in the restaurant rear, and the dining floor is converted into a jazz lounge, featuring live jazz and spoken word acts every week.
Myles J offers Sunday Inspirational Brunch from 10am to 4pm featuring gospel music with The Praise 92.1 FM radio personalities. For Valentine's Day, they are having a "Come Taste the Flavor of Love" event.
Myles J restaurant & bar is located within the Loop at 4303 Westheimer and Mid Lane (713.850.1850).