Unearth Your Senses at Discovery Green
JGoode | 4/2/2008, 8:08 p.m.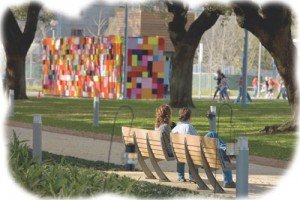 "Discovery Green will be a wonderful attraction for our city. We are proud of the commitment from the Discovery Green Conservancy in creating this unique destination in the heart of downtown Houston. For a long time to come, Discovery Green will be an asset to Houstonians of all ages and visitors from everywhere," said City of Houston Mayor Bill White. The urban retreat will be a dream fulfilled for the Mayor and major private Houston foundations to create and preserve green space within Houston's central city. It will almost be like Houston's own version of New York City's Central Park.
Discovery Green began to take shape in 2004.  One hundred twenty-two million dollars later, the park is no longer an idea and concept on paper but a reality for everyone to see, touch, hear, taste, and explore. All can and will enjoy the unveiling of the new attraction at the official grand opening on Sunday, April 13, 2008, at the Discovery Green Family Day Celebration.  A fun- filled day of activities from noon to 9pm will feature the Budweiser Clydesdales, ribbon cutting by Mayor White, Car Horn Concerto by The Art Guys and University of Houston music students and art cars and performances by Kaminari Taiko Drummers.
Everyone is taken on an adventure exploring the natural features of the park. The sense of touch can be used to get up close and in tune with the beautiful Mother Earth.  The minds of the young can be developed and adults can be helped to gain a greater appreciation for nature. The trickling sound of water in the fountain or the rippling waves in the pond or just people laughing will excite the ears of guests of the park.  Oh taste and see what delectable delights the Lake House and the Grove will have to offer those who venture through the doors of these Schiller Del Grande's destinations.
In the era of going green, Discovery Green is the perfect solution.  Just ask Discovery Green's president Guy Hastate. "We are dedicated to preserving the environment and implementing recycling into every phase of the park's development." The Discovery Green Conservancy is striving for a "gold level" of excellence with the Leadership in Energy and Environmental Design (LEED) Certification that bases their accreditation on site sustainability, water efficiency, energy and atmosphere, materials and resources used in construction, indoor environment quality and innovation in the design process. This is an ongoing project for the Conservancy.
Conveniently opened from 6am to 11pm, park goers can enjoy an array of activity programs during the Spring/Summer and Fall/Winter seasons that will regularly highlight music, dance, film, and theatre productions as well as exercise classes, children's events and an urban market. Park spaces are available for private and public events at one of their 6 event spaces. Discover the possibilities that invite all to explore their five senses of sight, touch, hearing, taste, and smell at Discovery Green. Find out more information at www.discoverygreen.com or call (713) 400-7336.