National Women's History Month Held at Houston Community College Northeast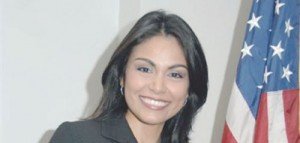 [caption id="attachment_5337" align="alignleft" width="300" caption="Wendy Corona, Local 2 KPRC Anchor"]
The National Women's History Month  program entitled  "Women:  Our Stories" was held on Tuesday, March 25 from 10:00 a.m. to 2:00 p.m. at Houston Community College Northeast Campus, 555 Community College Drive, Houston, TX 77015, in Codwell Hall.   This program was planned by a consortium of organizations in celebration of National Women's History Month.  A diverse audience of mostly young women from high school and college attended.
The program included a keynote panel discussion with women who have achieved success in their fields and who have an important story to tell about their pathway to success.  The panelists were Dr. Renu Khator, President and Chancellor, University of Houston System; Dr. Mary Spangler, Chancellor, Houston Community College; and The Honorable Sylvia Garcia, Harris County Commissioner Precinct One. The moderator was Dr. Dorothy Caram and Minerva Perez served as emcee.
There was also a table talk discussion in small groups during lunch.  We invited women who have achieved success in a variety of careers to meet and greet the students and tell the students the ins and outs of breaking into and achieving success in their particular field.  This session was entitled "Careers:  This is Possible for Me!"   Two presenters were paired together with 20-30 young women.  The presenters answer the following questions:
1. What is your selected career/field?
2. Why did you select that career?
3. What steps did you take to achieve success in that field?
4. What were some of the challenges you faced along the way?
5. What are some suggestions for today's young women interested in that field?
The last session was entitled "Woman Who Have Made a difference" and featured an interactive exercise and discussion about prominent women who've made a difference in our community and world.
This program was organized by the following women:  Mona Ahmad, Pakistani Chamber of Commerce, Gloria Alvarez, Tejano Center for Community Concerns, Jodi Bernstein, Anti-Defamation League, Helen Cavazos, METRO, Dr. Dorothy E.F. Caram, Institute of Hispanic Culture of Houston, Judy Foston, Foston International, Dr. Margaret Ford, HCC Northeast College, Sylvia Gonzales, LULAC, Helga Mattei, GrupoSieteCommunication, Dena Marks, Anti-Defamation League, Yolanda Smith, NAACP, and La Monica Yarbrough, Community of Respect™.
For more information, please call 866-922-2544.