Rockets Make Final Playoff Push in Brutal West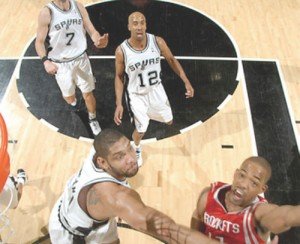 As of today (April 1), the Rockets stand at 6th place in the Western Conference standings with a 49-24 record, good for 3rd place in the Southwest Division. Of course, in today's West playoff picture, where 5 ½ games separate the first and eighth place teams, the Rockets are only a game and a half out of the top spot in the conference.
In this season's postseason race, actual seeding doesn't really matter, with so many great teams able to beat virtually anybody. The Rockets, like a few other teams (ex. the Utah Jazz, who are under .500 on the road in 2007-08), would benefit heavily from having home-court advantage in the first round of the playoffs.
Houston would definitely have a better chance of advancing in the spring-through-summer tournament for the first time in over a decade with a top-four seed. They will already be playing without their All-Star center Yao Ming (lost for the year with a foot injury) and a roster that may not be enough to stack up against the stellar teams in the conference.
They didn't help matters last Sunday, losing badly to the San Antonio Spurs in the first game of a five-game Western road trip. The Rockets were blown out by the defending champs 109-88 in a game that wasn't even as close as the final score indicated.
Star guard Tracy McGrady was held to only 13 points on 5-22 shooting, with five rebounds and six assists. Forward Luis Scola netted 24 points and seven assists against the team that traded him to Space City last offseason. The Rockets got little production from anybody else on the team, save for Rafer Alston's 13-point outing.
Anyhoo, the Rockets will try to put that stinker behind them as they cruise the West Coast for the next week. The team will face Sacramento, Portland, Seattle, and the Los Angeles Clippers in six days while logging major miles on the charter jet. They will also have a much better understanding of where they stand in the playoff picture or if they'll even be invited to the party. Dare I say the Rockets cannot afford to lose any one of those games against non-playoff teams?
The Rockets must also, in the process, develop more consistency in those expected to help McGrady get out of the first round for the first time in his great career. The team will be depending on a mix of veterans with little playoff success under their belts, save for Dikembe Mutombo and Bobby Jackson, and young players, like Scola and Carl Landry, with absolutely none.
But forget about winning a round in late April, the early part of the month will determine if they even make it there.