Texas Women's Empowerment Foundation Hosts "The FEMALE SUCCESS FACTOR"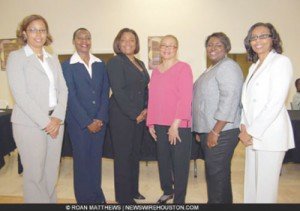 [caption id="attachment_5402" align="alignleft" width="300" caption="Alexandria Rawls, Lueretha Jones Black, Shalonda Dawkins, Leslie Sabbath Conteriia, Vanessa Reed and Lisa Williams."]
In Honor of Women's History Month Rolling Out and Comerica Bank recognizes the most influential, innovative and inspiring women of Houston by providing a panel of business and community leaders offering expert advice on "Developing Women of Color for Leadership Roles - Proven Strategies for Success" and "Glass or Concrete Ceiling - Overcoming Challenges Faced by Women of Color in Business."
This event was held at the Empowerment Community Center located in North Houston at 8333 Sweetwater Lane Houston, TX 77037 as a community service project benefiting Dress for Success Houston, a nonprofit organization that provides interview-appropriate women's suits, blouses, handbags, shoes, pantyhose and scarves.
The panelists included; Judge Clarease Rankin Yates, Immigration Judge U.S. Immigration Court; Dr. Wendy Johnson, President of Emerge Consulting Groups, LLC.; Carla Lane, Chief Operating Officer of DiverseStaff, Inc., Dr. Laureen Wishom, Chief Solutionary Officer of Masterpiece Solutions, LLC.
Guest speakers included Leslie Sabbath Conteriia, Vanessa Reed of Comerica Bank, Kimberly Floyd of Rolling Out and Deavra A. Daughtry Founder, Entrepreneur and Philanthropist of TWEF.
The Texas Women's Empowerment Foundation (TWEF) is a non-profit organization geared towards helping women to reach their fullest potential in the areas of business, education, financial, political and socio-economic development. The focus is therefore on the whole woman. The Foundation will achieve these goals by advancing interest and focus on successful programs that help achieve and maintain a sense of empowerment for women with respect to the aforementioned core themes. Our values drive us to develop various vehicles to achieve and sustain a predetermined set of goals for women in all walks of life. For more information or to find out how you can get involved please visit www.twef.org.