Did They or Didn't They?
JGoode | 4/10/2008, 5:48 p.m.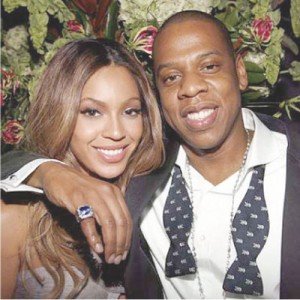 [caption id="attachment_5505" align="alignleft" width="300" caption="Newlyweds Beyonce and Jay-Z"]
Did they or didn't they? Rumor has it that they did. They are multi- millionaire rap mogul Jay-Z aka Shawn Corey Carter and the former Beyonce' Giselle Knowles who reportedly tied the knot officially becoming Mr. and Mrs.
The wedding rumor mill has really been turning ever since the couple allegedly took out a marriage license in Scarsdale, New York on Tuesday, April 1, 2008, that was good for 60 days. Now it has been reported that the dynamic duo joined as one on the 4th day of the 4th month. Big significance here since the number 4 is very important to B and Jay. They even have matching "IV" tattoos. Her birthday is September 4 and his is December 4 and together that makes 8 for the year 2008. Hmmmmm!
According to several sources the groom wanted a quiet intimate ceremony with family and close friends. Jay maybe crazy about blue but word is the wedding was all about white. A white tent, white décor, white orchids, even the guests were decked out in white according to sources. Some say the guest list included of course Tina and Matthew Knowles, Solange Knowles, Gloria Carter, Kelly Rowland, Michelle Williams, Chris Martin, Gwyneth Paltrow, Usher, Janet Jackson, Jermanie Dupri, Wyclef Jean, Jamie Foxx, Jennifer Hudson, Kanye West, and Pharrell Williams. After being led in the romantic, intimate exchanging of vows by Beyonce's longtime pastor Rev. Rudy Ramus, the new Mr. and Mrs. Carter reportedly partied with guests at a lavish seven course meal reception, where Beyonce was smuggled in by a moving truck to avoid the paparazzi, with Jay's favorite DJ Cassidy in charge of music. Allegedly when Jay toasted his beautiful bride that brought some to tears, and B then serenaded her new hubby with an original song. The couple danced their first dance as husband and wife to "Crazy in Love."
It is obvious the two are crazy in love since their romance, as far as the media knows, has been going on since 2002. Whether they are officially married will remain a rumor, I guess, since the couple has always kept their relationship somewhat private. It is really no one's business, but the two that are involved, so I guess it is human nature to want to know and be happy for them. Some celebrities are letting the cat out of the bag so to speak. At the Heart of the City tour in Greensboro, North Carolina featuring Jay-Z and Mary J Blige, Blige told the crowd right before singing her song "You're My Everything," " Congratulations to my man, Jay-Z, and my girl B." Alicia Keys has commented "All the best wishes possible and I think that love is beautiful and when you love somebody, just let it shine and shine bright." While John Legend has said that news of the marriage was no surprise. "They're a wonderful couple; they're both extremely talented and extremely important to the music industry and to pop culture. They're a pretty cool couple, so I'm happy for them."
Whatever the case six years is long time to wait, but it was Beyonce that said, "You can't rush a man into anything – whether it's a relationship, marriage or having children. When he's ready he'll let you know." It seems that the time might have come where Jay was ready. For now if they have tied the knot, the honeymoon will have to wait. Beyonce is working on her next film in which she will portray Etta James in "Cadillac Records." Jay-Z is on his Heart of the City tour with Mary J. Blige that will be in Houston, Thursday, April 10, 2008, and celebrating his $150 million deal with LiveNation.
Houston Style Magazine would like to congratulate hometown girl Beyonce Knowles and Shawn Carter not on supposedly getting married but for keeping love private, sacred and cherished. We wish you all the happiness in the world.