"Indestructible Beginnings: ABCs of Common Courtesy (Charm and Etiquette Handbook for Ages 5 to 95)" By Clarease Rankin Yates
JGoode | 4/10/2008, 6:02 p.m.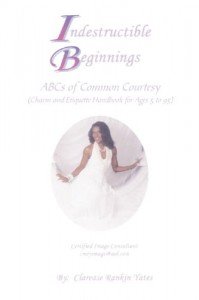 "The common threads which tie everything into a neat package are social grace and etiquette. One can attend the most prestigious university, but without knowledge and practice of good manners and proper social skills, success will be an elusive dream," said Yates.
Etiquette is the code to the great expectations of social behavior and Yates is the decoder. Leaving no stone unturned, she touches on every aspect from the proper way to act at home, work, and school to helpful tidbits on proper nutrition, fitness, and hygiene.
Yates begins simple with the one rule that we all learned as children, the golden rule. "Do unto others, as you would have them do unto you." So basic yet so true, Yates claims that virtually everyone with whom you have contact deserves to be treated with courtesy and respect. Highlighting proper decorum for the telephone is something that is so crucial and vital with the popularity of cell phones. Knowing things like when it is not appropriate to use your phone and how to properly answer and take a message will help one in the business and social world.
What is one thing that sometimes proves to be challenging to students in school….pop quizzes? Throughout her lesson plans of charm there are pop quizzes at the end of the sections. After mastering the common courtesies, Yates probes to enhance readers further.  Giving resume writing tips, how to conduct yourself on an interview, and getting rich. "Having wealth gives you options, the freedom of choice and a quality of life," writes Yates.
"In this multicultural society, we are expected to be spiritually in tune and socially savvy and possess business acumen. "Indestructible Beginnings" is your vehicle to a solid springboard into a happy and exciting life," said Yates.  It certainly has taken Yates far.  As the first female African American Immigration Judge in the United States, she has spent many hours in public service and is the recipient of many awards and proclamations. This civic leader, professor/lecturer, and accomplished attorney is the wife of Cary Yates, the mother of five and the grandmother of five. One of her children, Chelsey, is the brainchild behind this book.
"Indestructible Beginnings" is a great source for anyone who needs to brush up on social etiquette or those who need a jump start on the social graces. The book retails for $10.00. Pick up your copy today at most book stores in the Houston area.