Bringing It Home To Texas: Miss USA 2008Crystle Stewart
JGoode | 4/17/2008, 6:01 p.m.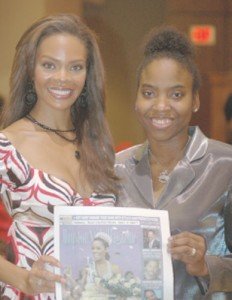 [caption id="attachment_5649" align="alignleft" width="232" caption="The new Miss USA 2008 Crystle Stewart and Houston Style Magazine's Jo-Carolyn Goode Photo by Anthony W. Morris"]
Yearly I get my popcorn and water and plop down in front of the television to watch the Miss USA Pageant. I don't know what it is about pageants that draw me so but I can't get enough of them. This year I had a special interest to watch fellow Texan Crystle Stewart capture the crown. In my heart of hearts I knew she would have to make top 15 or there would be something seriously wrong with the system. As Crystle advance in the competition I grew more nervous for her with each phase. When all was said and done I had nothing to worry about Crystle grasp the title of Miss USA 2008.
I cried, screamed, and almost got kicked out of my hotel but I was too proud of Miss Crystle. What an accomplishment. You would be impressed too if you knew her story. Crystle is not one of those girls who has been trained to be in pageants all of her life. Before pageants, her life revolved around modeling. As a modeling instructor she taught the next generation all aspects of modeling. It is through this position that she formed a close friendship with one of her students' parents. This friendship would prove to be golden. Akwanza Watson took the pageant novice Crystle and with the help of Crystle's mom Cynthia transformed Crystle into a beauty queen. With Akwanza at the head of her team, Crystle won the Miss Texas USA 2008 title in 2007 in Laredo, TX after being named third runner up twice and first runner up two times, she became the second African American to win the title of Miss Texas USA. Now she has made another historic victory by capturing the Miss USA 2008 title becoming the 8th African-American and 8th Texan to wear the crown. When Miss USA 2007 Rachel Smith crowned her successor another monumental moment happened, the first back to back wins by African American women.
By seizing the Miss USA title Crystle became a New York girl, at least for the next year, as she moved into the swanky Miss Universe apartment on April 14, 2008. She also is the recipient of a prize package worth over $200,000. Unfortunately, the Texas beauty can't really take time to bask in her win as she has to start preparing for the Miss Universe Pageant to be held on July 13, 2008, in Vietnam that will be hosted by the same brother/sister duo that hosted the Miss USA Pageant, Donny and Maire Osmond. "I have never been to Vietnam so I am really excited," said Crystle. "And I am just ready for the event."
She is ready for the event and ready to represent the USA. She will be a champion for the causes of breast and ovarian cancer education, research, and legislation and other official Miss USA causes. In addition she will continue to promote her own platform. "I just want to instill character education in young women that is my goal in life," said Crystle. "One of my goals is to be a positive role model. I think that we need that more today." She has already put this into practice through her business Inside/Out that helps to build self esteem in young women and puts on birthday parties. She also has a passion for helping children with autism. Her ultimate goal is to devote her life to international philanthropy.
This Missouri City native is the daughter of Robert and Cynthia Stewart. She has two siblings Robert and Breana.
Houston Style Magazine and this writer in particular is especially proud to congratulate Crystle Stewart, Miss USA 2008, and wish her success on becoming Miss Universe.