The Black List Project: Timothy Greenfield-Sanders and Elvis Mitchell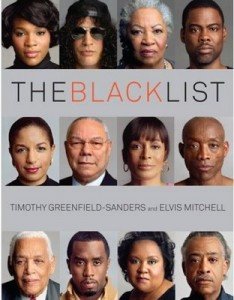 The traditional definition of the word blacklist is rendered obsolete by the new documentary The Black List: Volume One, which seeks to bury the negative weight of the term by allowing African Americans to provide an up-to-the-minute response to the word´s grim origins. In a film that works as a series of living portraits, 21 prominent African Americas offer their own stories and insights on the struggles, triumphs, and joys of black life in the United States. In the process, they manage to redefine blacklist for a new century. The film is presented as a series of vignettes—a kind of living portrait—in which the subjects address the camera directly as they tell their stories.
Renowned portrait photographer and filmmaker Timothy Greenfield-Sanders directed The Black List based on interviews conducted by former New York Times film critic Elvis Mitchell. Among the luminaries from the worlds of politics, sports, and the arts are Kareem Abdul-Jabbar, Sean Combs, Vernon Jordan, Toni Morrison, Chris Rock, and the Reverend Al Sharpton. Their tales begin with the personal and move into an area of larger social repercussion. The Black List is more than an enumeration of obstacles overcome—it´s a singular view of America from a perspective rarely seen on screen, constructed in a way that emphasizes the elegance and determination of the subjects.
While filming The Black List, Greenfield-Sanders invited each participant to sit for a portrait. Shot on his large-format 8 x 10 camera, the images were printed as large-scale color photographs, 58 x 44 inches each. The result is a powerful exhibition making its U.S. museum premiere at the MFAH. In addition to the 25 portraits on view, the gallery also features a flat-panel video screen with excerpts from the documentary. On view August 3 – October 26, 2008 at the Caroline Wiess Law Building