Freda Payne: One Woman Honoring Another
JGoode | 8/13/2008, 10:34 p.m.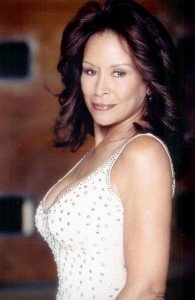 Jazz music is as American as apple pie. Legendary songstress Ella Fitzgerald is as essential to jazz music as apples are to apple pie. The first lady of song dominated the genre with a vocal range that spanned three octaves from the 1930's to the present. Now more than a decade after her death her influence can still be felt. Helping to keep her legacy alive is a legend in her own right, Freda Payne, who stars in a one-woman show where she pays homage to the idol of song. Traveling the world, gaining new fans of jazz, and bringing smiles to the faces of all with whom she comes in contact and delight to their ears, Payne is on her way to Houston courtesy of the Community Music Center of Houston (CMCH) and Jazz Cross Roads for their annual 2008 Women in Jazz concert on August 24, 2008, at the Miller Outdoor Theatre.
After a conversation with the general manager at Miller Outdoor theatre about his experience with Freda Payne in New York, Gary Wilkins, Executive Director of CMCH, knew Payne would be the perfect fit for their Women in Jazz concert. " A lot of people know Freda Payne as a popular R&B singer in the late 1960's and '70's, but she actually started out in the music field in jazz," said Wilkins. It is a little known fact that Wilkins is trying to bring women jazz artisans to the spotlight. "It is part of the CMCH's mission to produce shows that educate." Wilkins added, "Our goal is to continue to build the awareness of jazz through presentations and education in all forms."
Payne first got her feet wet in the music field at age 12. Like most parents who work to develop their children's musical gifts, her mother took her religiously to piano lesson after piano lesson. What started out as her mother's perseverance, turned into a real love of music for Payne. Around the time that Payne was realizing the potentials of her abilities as a pianist, she discovered she could sing too and that caught the eye and ear of Motown's Berry Gordy. Due to Payne being underage and a failure on the part of Gordy and her mother to come to a meeting of the minds, Payne never signed with Gordy. At 18 years of age, Payne left Detroit, her home, for the big lights of New York City and connected with such greats as Quincy Jones, Duke Ellington, and Lionel Hampton and the rest, as they say, is history.
Since female jazz artists are rarely recognized for their accomplishments, CMCH thought a concert honoring them would be perfect. In 2004, they held their first event and have been going strong ever since highlighting women who have reached legendary status. Past concerts have concentrated on Billie Holiday, Cynthia Blackman and others. For the second time they will pay homage to Ella Fitzgerald with the help of songstress Freda Payne. "She was, in my opinion, one of the best and most famous jazz singers in the world in the 20th century so when she passed away in 1996, I made a decision then that I wanted to keep her spirit alive," said Payne about her musical idol. Four years ago she made true her promise by portraying the singer in a play in Brunswick, NJ. From that one performance blossomed a one-woman show that has toured the county and is now coming to Houston.
Accompanying Payne in the Houston concert will be Carolyn Blanchard singing the music of Dinah Washington. On most tours, however, as previously mentioned, Payne appears as a solo act. This is a treat not to be missed. Come to hear the musical styling of Freda Payne in a tribute to Ella Fitzgerald on Sunday, August 24, 2008, at Miller Outdoor Theatre in Hermann Park at 7:30 P.M. Admission is free. Also catch the cocktail reception on Saturday, August 23, 2008, at Café 4312, 4312 Almeda at Cleburne at 6:30 P.M. Admission is $20. Find out more information by logging on to www.cmchhouston.com.