Legendary Negro Baseball Leaguer Recently Drafted by Houston Astros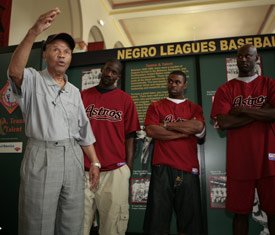 At times, many sports fans around Houston and nationally question the draft selections of the Houston Astros, but recently during Major League Baseball's annual amateur draft ceremonies, the Astros got it right by selecting an 86-year-old left-handed pitcher.
During the draft, the league recently stepped up to the plate and honored some of baseball's forgotten heroes of the Negro Baseball League that were excluded before Jackie Robinson broke baseball's color barrier in 1947. Each major league team selected a former Negro League player and the Houston Astros drafted Negro League pitcher Bill Blair formerly of the Cincinnati Clowns.
Recently, the Astros officially welcomed their newest draftee during "Bill Blair Day" at Minute Maid Park. "For years, the Negro League Baseball has been under appreciated, so this is great for Major League Baseball," states Pam Gardner, Astros' president of business operations. Gardner added that Bill Blair is a great role model to many young players and the Astros are pleased to honor him.
Other Astros personnel instrumental in making the event a reality are Marian Harper, vice president of foundation development and former Astros standout Enos Cabell, who now serves as special assistant to the general manager.
"I would like to thank the Astros' organization, as this is one of the greatest moments in my life," states the 86-year-old Texas native. Blair, standing alongside his wife of over 60 years, was flanked by his children and a host of friends and relatives during the celebration. Blair, a World War II veteran and newspaper publisher, added that he has received many awards in life, but being drafted by a major league team really means a lot.
"This is a forward step in the right direction," commented former Astros pitching sensation, J.R. Richards. As Richards was one of several former players on hand for the Bill Blair celebration. The day spotlighted a full uniform presentation to Blair, whose new jersey blended in perfectly when meeting his new teammates. Other activities included a private reception in his honor, a pre-game Negro League video presentation and the ceremonial throwing of the first pitch to Astros' skipper Cecil Cooper. Other invitees on hand for the celebration were staff and players from the Prairie View A&M and Texas Southern Universities baseball teams, both members of the Historically Black Colleges and Universities (HBCU).
Blair, who attended Prairie View before enlisting in the war, was right at home sharing stories with the players and serving as an inspiration to many. "This is a great opportunity for our players to understand history and meet a legendary Negro League player," states Prairie View's interim head baseball coach Waskyla Cullivan.
From all indications, it was a great day in Astroland and it appears that Blair needs to hang around the clubhouse a little longer, as the Astros put on an impressive show for their newest teammate in defeating the San Francisco Giants 3-1 while climbing back to .500 with a 59-59 record in MLB play.
Thank you Astros and Major League Baseball for helping to honor and recognize some of our country's finest athletes. Congratulations Bill Blair and thank you for helping to pave the way and inspiring others with your legacy!!