Texercise: A Stay-Healthy Plan You Can Stick to for Life
RSmith | 12/28/2008, 8:15 p.m.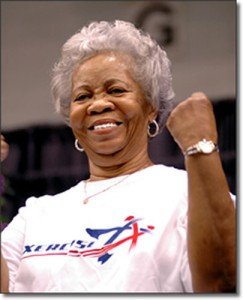 So, perhaps this year, we should resolve to give up diet resolutions themselves.
In their place: Texercise, a program that focuses on improving overall health with realistic, sustainable physical activity routines that fit seamlessly into our daily lives.
Texercise, developed by the Texas Department of Aging and Disability Services (DADS), has won thousands of converts with its all-ages philosophy, straightforward — and free — fitness information, professionally designed exercise programs and emphasis on self motivation. Communities all over the state already are holding successful Texercise fun runs, walks and other events.
Now there's another free resource in the Texercise toolkit. The Texercise "Fit for the Health of It!" DVD pulls together a complete range of strength, balance, endurance and flexibility excercises led by a certified physical therapist. Though slanted toward middle-aged and older adults, these workouts are suitable for anyone who's just beginning a personal fitness program.
True to Texercise's guiding principle of simplicity, all of these activities can be done at home or in the workplace. They require no special clothes or workout gear, no fancy equipment, and no gym fees. All you need is a TV, computer or other device capable of playing a DVD.
The exercises are clearly explained and demonstrated from different angles to make it easier for beginners to do them correctly. All that's missing from this complete program is the sight of perfect physical specimens gliding effortlessly through high-stress workouts most of us could only dream of completing.
"Unlike many fitness programs that focus on developing the perfect body or preparing for high-level competitive events, Texercise is different in that it views physical activity as rewards you can enjoy for a lifetime," said Texercise Coordinator Holly Riley of DADS.
An Evolving Philosophy
Texercise began about 10 years as a primarily senior-oriented campaign, but quickly morphed into a wide-open approach stressing mutual support among family members, neighbors and co-workers of all ages.
The idea, Riley explained, is that health-conscious kids are likely to develop into healthy adults and seniors. To attract the maximum number of participants, the program includes resources (such as the new DVD) for individual fitness activity as well as group-oriented special events that can be tailored to their host communities.
Most Texercise running and walking events and educational programs are organized by local and regional Texercise Teams, whose members know how to reach and motivate the people in their areas. Although pedometers let you check your distance in Texercise events, times are not published and the word "competition" is replaced by terms such as enjoyment, health and multigenerational bonding.
These approaches have been widely praised, most recently by the National Center for Chronic Disease Prevention and Health Promotion, which cited Texercise as one of 17 exemplary physical activity programs nationwide.
Riley said Texercise's emphasis on fun, family and mutual support make the program an easy sell to its target audience, which theoretically includes all 23 million Texans. The campaign uses a blend of public and private support to tackle this ambitious goal.