VICK ORDERED TO REPAY PART OF FALCONS BONUS: Judge Overturns Previous Decision by Arbitrator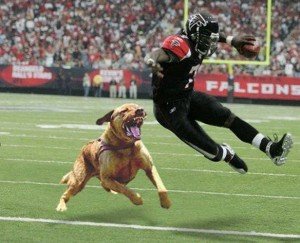 The Atlanta Journal-Constitution reported that the ruling overturns an arbitrator's earlier decision that called for Vick to repay the Falcons $20 million in bonuses since he could not earn them due to his 23-month federal prison sentence and indefinite suspension by the NFL.
Vick's attorney, Lawrence Woodward Jr., said his client was pleased with the ruling, but understands there could be appeals.
"He's grateful for some good news but he realizes he needs to keep doing all the right things to get back to playing football," Woodward said.
The Falcons issued the following statement from President Rich McKay: "While we are disappointed by Judge Doty's decision, this ruling does not affect our salary cap management for the 2008 season. Any potential recovery would have only affected our 2009 salary cap. As to our future legal strategies, we will meet with our legal representatives to more fully understand our options before making that determination."