It's a Girl Scout Cookie Competition: Ready, Set, Go!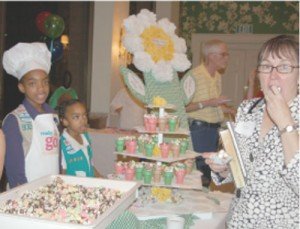 • Peggy Grodinsky, The Houston Chronicle
• Cesar Rincon, TV Informa 43
• Miya Shay, KTRK Channel 13
• Cristina Terrill, KHOU, Channel 11
• Maria Corrales, Univision
• Courtney Zavala, KRIV, Channel 2
This year's assortment of Girl Scout cookies includes a new variety called Cinna-Spins. This is a tasty treat for those who are watching their calories as this variety is packaged in 100-calorie pouches. There are seven other Girl Scout cookies - including Thin Mints, Shortbread, Caramel deLites, Cartwheels, Peanut Butter Sandwich, Thanks-A-Lot and Peanut Butter Patties.  Choosing just one winner was too difficult; therefore, the judges awarded each chef for their creativity in different categories.
Celebrity chefs were awarded in several categories as follows:
• Best Dessert Presentation was, Kevin Pysell, The Woodlands Resort & Conference Center, using the Peanut Butter Patties, and
• Girl Scout Assistant Favorite: Terry Flores, Bocados, incorporating the Shortbread cookie, and
• Most Creative Recipe: Johnny Mandola, The State Grill with the new variety, Cinna-Spins, and
• Best Use of Cookie: Charles Clark & Rebecca Masson, Ibiza Food and Wine & Catalan Food and Wine, with the Thin Mints cookie, and
• Most Fun Table Display: Tamara Vogt, Grand Finale Catering, using Caramel deLites, and
• Celebrity Judges Favorite: Jamie Zelko and Dustin Hamilton, Bistro Lancaster, with the Peanut Butter Sandwich cookie, and
• Most Delicious: Bruce Grassa and Eunice Garza, The Aquarium, with the Lemonade cookie.
A new category this year was the "People's Choice for Favorite Cookie Recipe." The winner was Bruce Grassa and Eunice Garza with The Aquarium.
Cookie Booth sales began on February 22. Shops are located at many local grocery stores and shopping centers. The sale ends on March 30, 2008. To find a Girl Scout Cookie Booth in your area, visit www.GSSJC.org and enter your zip code to find the Girl Scout Cookie booth nearest you.
Girl Scouts of the USA is the world's preeminent organization for girls, with a membership of more than 3.5 million girls and adults. Today, as when founded in 1912, GSUSA helps cultivate values, social conscience, and self-esteem in young girls, while also teaching them critical life skills that will enable them to succeed as adults. Girl Scouting builds girls of courage, confidence, and character, who make the world a better place.
Chartered by GSUSA to provide Girl Scouting locally, Girl Scouts of San Jacinto Council is one of the largest Girl Scout councils in the country serving more than 64,000 girl members and 18,000 adults in 26 southeast Texas counties. For more information on Girl Scout Cookies call 1-888-GS-COOKIE or visit www.gssjc.org