Prairie View A&M University Representative Selected to Attend National Conservation Forum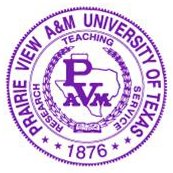 More than 250 national conservation leaders, government officials, and museum, library, and archives professionals will take part in the forum focusing on culturally diverse American collections.   It will be held at Atlanta's High Museum of Art.
Sponsored by the Institute of Museum and Library Services (IMLS) and organized in cooperation with Heritage Preservation, the event will underscore the perils that endanger the books, works of art, documents, and historically significant materials specific to African American, Native American and Latino collections.
"Our nation's treasures are visited billions of times a year in libraries and museums across the country.  Those representing some of our diverse cultures are essential to education and innovation, and yet their future is at risk," said IMLS Director Anne-Imelda Radice, PhD. "Since these collections present unique conservation challenges we see this forum as a call to action for the special care these treasures need in order to endure for future generations."
"Preserving America's Diverse Heritage," will address issues facing unique collections, such as the handling of culturally sensitive objects, caring for oral history archives, the special needs of photographs and audio-visual materials, and the difficulties in attracting funding. The forum will provide both information and inspiration to help participants care for significant collections and mobilize support in their communities.
The forum is part of IMLS's multi-year, multi-faceted national program, "Connecting to Collections: A Call to Action." It will be the first of a series of four national forums, to be held in 2008 and 2009, called the National Tour. The meetings are designed to raise awareness among leaders of small and mid-sized museums and libraries about the importance of collections care and to give them practical information, tools, and resources to inspire action nationwide.
The forum is open to museum, library and archives professionals.  Information is available at: http://www.imls.gov/collections/tour