Recycling in Honor of a "King"
JGoode | 1/17/2008, 2:26 p.m.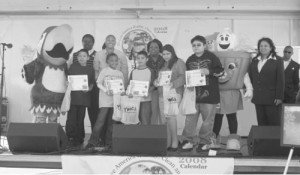 "Earth receives an A+ for supplying the diverse needs of its inhabitants while they receive an F as Earth's caretakers," said Tammie Lang Campbell, founder and executive director of the HBHF. Helping to change that report card is the next generation by encouraging others to reduce, reuse and recycle for a cleaner and a healthier Mother Earth 365 days a year and at the same time honor a King.
Using the theme "We Love America Healthy, Clean & Green," the new 2008 "We Love America Healthy, Clean & Green – A Youthful Eye on Earth's Health and Diversity" calendar was revealed to Houston on Saturday, January 12, 2008. The calendar features biodiversity and environment awareness quotes from Tammie Lang Campbell, glossy prints of holiday observances, recycling facts from City Houston SWD, a supporting letter from Mayor Bill White and the highlight of the calendar is photos taken by participants in the Downtown YMCA After School program.  The 2008 calendar contest winners are Miranda Hyder (January), Paris Bullock (February), Amber Smith (March), Oscar Santana (April), Christopher Palacios (May), Justine Pemberton (June), Juliana Vasquez (July), Kenneisha Washington (August), Trentonica Wilson (September), Kirbee Celestine (October), Deshieyiea Johnson (November) and Antonio Palacios IV (December). Each winner received a beautifully framed certificate, a gift card from Fiesta Mart and a gift pack from YMCA.
"This calendar is designed to remind every individual that although we may come from different backgrounds, we all depend on one earth for water, food, shelter, air and land. All Houstonians should share in the responsibility to protect our environment. We must all do our part to keep the planet healthy while appreciating its richness," said Mayor Bill White in his support letter.
HBHF is a 501 © (3) non-profit organization chartered by the State of Texas. Since its inception in 1991, the Foundation has worked to give and nurture hope in young people through cultural awareness/appreciation, drama, character building, writing and parenting programs. In an effort to expand its program, the Foundation collaborates with schools and youth organizations.
The Mayor is leading Houston's recycle movement with the youth of Houston at his heels. We must take their lead to reduce, reuse and recycle.
"Dr. Martin Luther King, Jr. realized that life is better for all if we live, work, go to school and take care of our planet together," said Campbell.
For more information about the Honey Brown Hope Foundation log on to www.honeybrownhope.org.