King's Spirit Continues To Inspire New Generation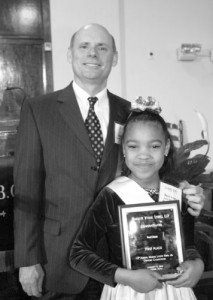 [caption id="attachment_3840" align="alignleft" width="213" caption="Claude Treece, a partner with the Houston office of Gardere Wynne Sewell LLP stands with Perri Jones, this year's winner of the 12th Annual Gardere Martin Luther King Jr. Oratory Competition. The Oratory Competition took place on Friday, Jan. 18, 2008 at Antioch Missionary Baptist Church in downtown Houston. Jones, a fourth grader from Julius Dodson Elementary School, dazzled the audience with a speech that had her hosting her own talk show. Her "guest" was a girl whose forefathers were slaves, but was spared from sitting in the back of the bus and drinking only from specific water fountains thanks to Dr. King's efforts. She proclaimed to the cheering audience that she can "rise" to be anything – "Secretary of State, President of the USA or even a talk show host like Oprah.""]
Nearly 40 years after his death, the legacy of Martin Luther King Jr. continues to resonate with the youth of today. Inspired by his legacy, elementary school students in three Texas cities competed this week in the annual Gardere Martin Luther King Jr. Oratory Competitions.
More than 280 students, representing a total of 20 schools in Dallas, Austin and Houston, competed in preliminary contests over the past month for the right to represent their schools. The annual events are hosted by the law firm of Gardere Wynne Sewell LLP.
"During Dr. King's life, the cultural and educational landscapes were far different from any that these students will ever have to know," says Steve Good, Gardere's managing partner. "He dedicated, and ultimately sacrificed, his life to assure better lives for future generations. Through events such as this, Gardere is proud to help make sure Dr. King's efforts are never forgotten, and at the same time place a spotlight on some of the brightest, most talented elementary school students in Texas."
On Jan. 16, Dalton Sherman, a fourth grader at Charles Rice Learning Center, took top honors in the 16th annual Dallas competition. Drawing from Dr. King's "Drum Major Instinct" speech, the 9-year-old stirred the crowd, speaking of the need for not only strong leaders, but also for the community to pull together:  "We have to all do this together. Because a drum major with no band is just a fool dancing on a football field."
The winner of the 3rd annual Austin competition, also held Jan. 16, was Kendal Travis, a fifth grader at Campbell Elementary School. The 11-year-old spoke confidently about how Dr. King has inspired him to want to go to college and be a professional football player. "I want to be a running back for the Dallas Cowboys and my two heroes are Dr. King and Earl Campbell," he said.
At the 12th annual Houston event on Jan. 18, Perri Jones, a fourth grader from Julius Dodson Elementary School, dazzled the audience with a speech that had her hosting her own talk show. Her "guest" was a girl whose forefathers were slaves, but was spared from sitting in the back of the bus and drinking only from specific water fountains thanks to Dr. King's efforts. She proclaimed to the cheering audience that she can "rise" to be anything – "Secretary of State, President of the USA or even a talk show host like Oprah."