Chevy Equinox: Fierce as the Cougar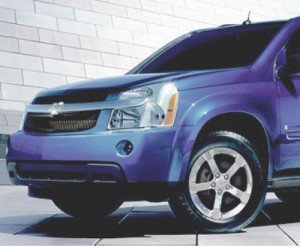 I received a deep ruby metallic 2008 Chevrolet Equinox Sport. The Equinox is basically a miniature SUV right down to the shape and looks of a normal-sized SUV. It had a square front with a slight creased front bumper and a more round rear end. My Equinox had a sporty look created by body side moldings, dual chrome exhaust tips and 18" aluminum polished wheels.
The interior was an ebony black. It was very simple and lacked a little style although it had a sporty looking instrument panel. There was lots of functional cabin space for its size. There were sport bolstered leather seats. The front passenger seat folds flat while the rear seat has a 60/40 split capability for maximum cargo space. The Equinox came with a leather wrapped steering wheel with audio controls, sunroof, Pioneer premium 7-speaker system, subwoofer and amplifier, AM/FM stereo, CD/MP3 player, and XM Satellite. I'm a big fan of thumping stereo systems, although the Equinox had an amp and subwoofer, the music was not as clear and bangin' as I would have expected it to be.
When I turned on this feisty crossover, I heard a weird but unique growl. It didn't sound ferocious like the Yukon Denali does but instead sounded just like a cougar on the prowl. It was made even more apparent when I gas that mutha'. The Equinox had a quick take off. It can go from 0-60 mph in under 7 seconds. The 2008 Equinox Sport has an upgraded 3.6L V6 264 horsepower engine with sports tuned suspension. The ride was comfy but not as quiet as the critics might say. Every time I accelerated I would hear the cougar's purr. This little sucker had towing capabilities of 3,500 lbs with a fuel economy of 16-city/24-hwy mpg. The Equinox is known for its excellent safety ratings, receiving 5-stars in crash test ratings. The fuel economy and safety features are what intrigues people to the Equinox.
I enjoyed driving the Equinox because it was not too large like the Chevy Tahoe and not too small like the Pontiac Solstice, instead it was just right. I feel like freaking Goldilocks. Anyways, if you want this fierce cougar for yourself you can buy one at the starting price of $27,380. For more information go to www.chevy.com.