How Do I Register To Vote?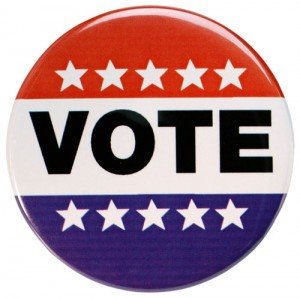 To be eligible to register to vote in Texas, any United States citizen residing in Texas who is:
• At least 18 years old on Election Day
• Not a convicted felon (unless sentence, probation and/or parole are completed)
• Not declared mentally incapacitated by a court of law
How do you register?
Registering to vote is easy in Texas Official applications to register to vote are postage-paid by the State of Texas .
In most Texas counties, the Tax Assessor-Collector is also the Voter Registrar. In some counties, the County Clerk or Elections Administrator registers voters.   You may obtain an application from the county Voter Registrar's office, the Secretary of State's Office, libraries, many post offices, or high schools. You may also register to vote when you apply for or renew your driver's license.
You must be at least 17 years and 10 months of age on the date you apply. If for any reason you cannot register yourself, with your permission, your spouse, parent or child may fill out and sign an application for you if that person is a registered voter or has applied for voter registration. This person is known as your "agent."
The application must be received in the Voter Registrar's office or postmarked 30 days before an election in order for you to be eligible to vote in that election.  You will receive a voter registration certificate in the mail after the Voter Registrar has processed your voter registration application. Upon receipt of the voter registration certificate, sign it, fold it and keep in it in your wallet and take it to the polls with you when you vote.
All voters who registered to vote in Texas must provide a Texas driver's license number or personal identification number issued by the Texas Department of Public Safety.  If you do not have such a number, then you must state that fact and provide the last four digits of your social security number.  If you do not have a social security number, you must also state that fact.
Voter Registration Certificate
• Once you apply, a voter registration certificate (proof of registration) will be mailed to you within 30 days.
• Check your certificate to be sure all information is correct. (If there is a mistake, make corrections and return it to the voter registrar immediately.)
• When you go to the polls to vote, present your certificate as proof of registration.
• You may vote without your certificate by signing an affidavit at the polling place and showing some other form of identification (for example, driver's license, birth certificate, copy of electric bill).
• If you lose your certificate, notify your county Voter Registrar in writing to receive a new one.
• You will automatically receive a new certificate every two years, if you haven't moved from the address at which you are registered.
Name change
Promptly notify the Voter Registrar, in writing, of the change using the same steps as for IF YOU MOVE WITHIN THE COUNTY. You will receive a new certificate 30 days after your name change notice is submitted. You may continue to vote during this period. If you do not have your certificate in hand, you may sign an affidavit at the polls and present a form of identification.
Commonly Asked Questions That Every Voter Should Know:
Q. Where do I vote?
BRAZORIA COUNTY
County Clerk
Joyce Hudman
111 E. Locust, Ste 200, Angleton 77515
(979) 864-1355
(979) 864-1358
FORT BEND COUNTY
Elections Administrator
J.R. Perez
301 Jackson St., Richmond 77469-3108
(281) 341-8670
(281) 341-4418
GALVESTON COUNTY
County Clerk
Mary Ann Daigle
P.O. Box 17253, Galveston 77552-7253
(409) 766-2210
(409) 765-3160
HARRIS COUNTY
County Clerk
Beverly Kaufman
P.O. Box 1525, Houston 77251-1525
(713) 755-6411
(713) 755-4983
Q. What is "early voting?"
A. "Early voting" is a way to cast your ballot before Election Day either in person or by mail.
• In person - Call your County Clerk or Elections Administrator for early voting dates, hours and places.
• By mail - If you will be: (1) out of the county during early voting and on Election Day; (2) age 65 or older; (3) sick or disabled; or (4) confined to jail, call the Elections Administrator in charge of the particular election and ask him to send you an application for a ballot by mail. Or, you may request one from the Secretary of State's Office at 1.800.252.VOTE (8683), or on-line.
For more information, Contact:
• Secretary of State's Office toll-free at 1.800.252.VOTE (8683)
• Your local County Clerk (will be listed in the blue pages of your telephone book)
• Your local County Elections Administrator
• Voter Registrar (Tax Assessor-Collector)
• Secretary of State Elections Division P.O. Box 12060 Austin, Texas 78711-2060 512.463.5650 or  1.800.252.VOTE (8683) Fax 512.475.2811 TTY 7.1.1
• Federal Election Commission 999 E Street, N.W. Washington, D.C. 20463 1.800.424.9530
• Texas Republican Party 900 Congress Avenue, Suite 300 Austin, Texas 78701 512.477.9821
• Texas Democratic Party 707 Rio Grande Street  Austin, Texas 78701 512.478.9800
• Libertarian Party of Texas P.O. Box 56426 Houston, Texas 77256-6426 1.800.422.1776