Miss USA Crystle Stewart Competes for Miss Universe
JGoode | 7/2/2008, 8:48 p.m.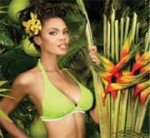 [caption id="attachment_8069" align="alignleft" width="150" caption="Miss USA, Crystle Stewart"]
Just a little less than three months ago Crystle Stewart was crowned Miss USA 2008 in the city that never sleeps, Las Vegas, NV.   Now she is competing on foreign soil in the 2008 Miss Universe Pageant which will be aired on television on Sunday, July 13, 2008, at 9pm ET live from Nha Trang, Khanh Hoa, Vietnam.
"Vietnam has shown unprecedented growth in recent years, both in the business and   tourism sectors," said Paula M. Shugart. "This worldwide telecast will mark the first event of its kind to be centered in Vietnam which, of course, will have special significance to the U. S. audience. I am very happy to have the Miss Universe Pageant as the catalyst for such an historic event."
Stewart will join the 2008 Miss Universe contestants representing more than eighty countries from around the world at the 57th pageant produced by the Miss Universe Organization and NBC Universal. Competing in the areas of swimsuit, evening gown, and interview, the new Miss Universe will be crowned in a display of grand pageantry. One of the duties of the newly crowned beauty will be to continue the work of the reigning Miss Universe, Riyo Mori. She will travel the world as an advocate for HIV/AIDS education, research, and legislation. Mori will crown her successor with this year's crown created by Rosalina Tran Lydster of Jewelry by Rosalina and Ms. Dang Thi Kim Lien of CAO Jewelry.  The $120 thousand crown is made up of 18K white and yellow gold. There are over 1,000 precious stones with special symbolic significance. The yellow luster of the gold represents the prosperous thriving economy in Vietnam. White, light pink and cognac are the main hues in the crown which represent inspiration and feeling.
Hosting the festivities will be "America's Got Talent" host Jerry Springer and Spice Girl Mel B. "This is obviously an honor, and getting to work with Mel B makes it even better, "said Springer. Mel B added, "I'm thrilled to be co-host of the Miss Universe Pageant. I believe the diversity and dedication that the pageant brings inspires and empowers young women across the globe."
Be sure to watch NBC on Sunday, July 13, 2008, at 9pm ET to see if Crystle Stewart will upgrade her Miss USA crown for the crown of the world, Miss Universe. Good luck Crystle!!!!!!!!!!!!!!!!!