Alpha Kappa Alpha Women Celebrate 100th Year with Emotional, Spiritual and Physical Health Community Walk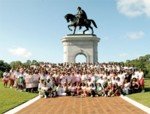 On June 28, at 10:00am at Hermann Park, in Houston, Texas, over 350 Houston Metropolitan Area Chapter members of Alpha Kappa Alpha Sorority, Incorporated joined their national membership participating in a synchronized ESP 1908 Global Centennial Walk designed to raise awareness about the importance of fitness. Linking hands and stepping off at the same time worldwide, the members sent a strong statement about the importance of Emotional, Spiritual and Physical health.
The Houston Metropolitan Area Chapters which consist of Alpha Kappa Omega, Mu Kappa Omega, Xi Alpha Omega, Tau Zeta Omega, Omicron Gamma Omega, Rho Omicron Omega, Chi Omicron Omega, Gamma Psi, Epsilon Lambda, Omicron Gamma, and Sigma Theta participated along with families, friends, supporters, and partners.  Participants walked 1908 steps, approximately two miles, in honor of the Centennial Celebration.  After completing the ESP 1908 Global Centennial Walk, members will meet again at the Sorority's biennial convention on Sunday, July 13, 2008, in Washington, DC. There, in show of solidarity, members will walk 1908 steps to the Washington Convention Center. At the culmination of this event, International President Barbara A. McKinzie will lead members into the Center and the historic Centennial convention will officially begin.
Joining the walk to the Convention Center on July 13, 2008, will be Dr. Ian Smith, medical/diet expert on VH1's highly-rated Celebrity Fit Club, host of Meet the Faith on BET and his own nationally syndicated radio show HealthWatch on American Urban Radio Networks. Smith is also creator and founder of State Farm's "50 Million Pound Challenge," of which Alpha Kappa Alpha is a Challenge Champion. A vocal health advocate, he is expected to inspire the members with his rallying cry to lose weight and stay fit. McKinzie explained that the Emotional, Spiritual and Physical walk adapts the ESP theme, the current administration's programmatic focus. This initiative specifically embraces Platform Five, which deals with Health Resource Management and Economics.
"To reach that stratosphere of satisfaction where one is physically and mentally fit and poised to embrace all of life's rewards and challenges requires a balance of emotional intelligence, optimal psychology and spirituality. Studies prove that when all of these elements are in divine order, physical health, relationships and life satisfaction will be the result. This walk achieves that lofty purpose," declared McKinzie.
International Program Committee Chair Loann Honesty King said, "There is a connection between Emotional, Spiritual and Physical health. With women being afflicted by an array of ailments that can be mitigated through attention to the ESP elements that this walk symbolizes, we hope to send a signal that we are committed to taking care of our total health. Ultimately, when we are Emotionally, Spiritually and Physically fit, we are in a better position to serve our family, community and the world!"
Alpha Kappa Alpha Sorority is America's first Greek-letter organization founded in 1908 by, and for, African-American college women. Headquartered in Chicago, Illinois, it is one of the world's leading service organizations. The Sorority's members have made a commitment "to serve all mankind" through a nucleus of more than 200,000 women in over 975 chapters in the United States, the Caribbean, Canada, Germany, Korea, Japan and in the continent of Africa. Barbara A. McKinzie is the 27th International President. Because her term coincides with the 100-year anniversary, she is being hailed as the "Centennial National President."
McKinzie's administration is marked by the theme: ESP, which stands for Economics, Service and Partnership. For more information, log on to www.aka1908.com.