DDF Introduces NEW Discoloration Reversal-POD Fade Skin Discolorations and Flaws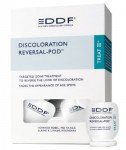 Inspired by dermatological procedures and exfoliation techniques specifically used to help improve skin tone, DDF introduces the new Discoloration Reversal-POD.  The latest addition to the DDF Hyperpigmentation Protocol, this targeted zone treatment contains DDF's new Micro-Radiance Complex™, a powerful combination of ingredients designed to reduce the appearance of skin discolorations and help reclaim the natural radiance of healthy, younger-looking skin.  Similar to the mechanism of microdermabrasion, the pod's sponge-like applicator gently exfoliates skin.  This resurfacing preps the skin to receive a dose of the Micro-Radiance Complex™ to affect newly exposed surface skin cells in the targeted area.  After only 3-4 weeks of use, DDF Discoloration Reversal-POD has been shown to deliver noticeable benefits.  Consumer testing revealed more hydrated, brighter and more radiant skin with a more even skin tone.
"Long-term sun exposure, in combination with increased melanin production as the body ages, can result in unwanted skin discolorations," says Dr. Howard Sobel, dermatologist and founder of DDF.  "By gently removing the outermost layer of skin through exfoliation, the appearance of age spots can be noticeably diminished."
DDF's Micro-Radiance Complex™ includes three key ingredients that hydrate to reduce the appearance of existing skin pigmentation over time.
• Undecylenoyl phenylalanine (UPA) – Affects skin pigmentation in the early stages by inhibiting the transfer of initial melanin production signals.
• N-acetyl Glucosamine – Blocks the activation of tyrosinase, the key enzyme involved in the production of melanin, to prevent the activation of new skin discolorations.
• Niacinamide – Inhibits the transfer of melanin to the skin's surface, blocking future age spots.  The high level of Niacinamide also improves skin's microtexture, increasing light reflectance and further reducing the appearance of skin discoloration.
The proprietary formula also includes powerful Scavenol™ antioxidant system and Vitamin E to help quench free radicals before they even have a chance to cause damage at the skin's surface.  Additionally, Glycerin immediately provides lasting humectant moisturization by "holding" moisture in the upper layers of the skin.
"Formulated with ingredients backed by strong clinical data for proven effectiveness," says Laura Goodman, P&G Beauty Skin Science Specialist, "DDF Discoloration Reversal-POD affects the appearance of hyperpigmentation and utilizes a highly effective exfoliation 'pod' delivery system for an experience that goes above and beyond a traditional topical treatment."
Together, the multi-directed combination of ingredients in DDF's Micro-Radiance Complex™ provides intense hydration to skin surface cells, moisturizing for hours after the initial application.  Research has shown that moisturized, hydrated skin allows for the natural rebuilding of collagen in skin cell cultures, and this rebuilding of collagen provides an improvement in collagen's ability to reflect light from within the skin.  This improvement in light reflectance helps transform the look of dullness on the skin's surface, blurring imperfections to help reclaim youthful radiance and more even skin tone.
Availability: DDF Discoloration Reversal-POD is available in February 2008 for $70 (28 single-dose pods).  All DDF products are available at www.ddfskincare.com or at the following specialty retailers and spas: Sephora, Ulta, Nordstrom, JC Penney, Douglas, Beauty.com, BeautyFirst.com/PureBeauty.com, The Delano Agua Bathhouse Spa and Dr. Howard Sobel's Skin & Spa Cosmetic Surgery Center.