It May Be Hot, But Don't Expect Rockets to Make A Big Splash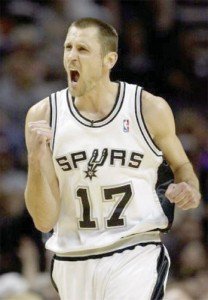 One month later, the Rockets made a huge offseason blockbuster, shipping Francis and fellow guard Cuttino Mobley to the Orlando Magic for All-World
swingman Tracy McGrady. The move immediately ascended the Rockets onto the level of the Western Conference's elite, at least in the minds of media and fans.
McGrady and Yao were expected to be Space City's answer to Shaq and Kobe and make the Rockets championship contenders for the first time in seven years.
McGrady brought star power to Houston and gave a name for fans to latch onto, especially during the summer months after an early playoff loss when hope and enthusiasm are as dry as the H-town heat.
This summer, after the Rockets' third first-round exit in four seasons, don't expect any such blockbuster. But, that doesn't mean the team isn't on the right track.
Armed with only a late-first round pick in last month's NBA Draft and little cap space to make a major free agent splash, the Rockets parlayed the 25th pick into two players with first-round talent in forwards Donte Greene and Joey Dorsey. Both players are expected to contribute immediately and help shore up some team needs.
Then, last week, the Rockets signed free agent veteran guard/forward Brent Barry, who should provide the franchise with an extra shooter (he led the league in three-point percentage in 2000-01 and was second in the NBA in 03-04) and another ball-handler to go alongside McGrady and Rafer Alston (Barry played some backup point guard with the defending champion Spurs the last two seasons).
Barry is no T-Mac, but he is another piece to a squad that many believe over-achieved last season. After major injuries blasted the Rockets for the third fourth consecutive year (McGrady and Yao missed a total of 43 games in 2007-08, and Yao was lost for the season in February; Yao has only played an average of 53 games in the past three seasons), the team banded together to run through 22 straight victories, the most the NBA has seen since 1973.
Had the Rockets not ran off that historic streak and missed the playoffs altogether, many fans and writers would have been screaming at the top of their lungs for the end of the McGrady/Yao Era in Houston, and they may have been justified. Neither All-Star has been consistently healthy since T-Mac's arrival in 2004 and neither All-Star is getting any younger.
But the Rockets did make the playoffs despite losing their best player, which gives the organization some hope (yeah, it may be false hope) that with health, and luck, the team finally claim legitimate contender status with the group as presently stated.
So, with a roster filled with a healthy mix of savvy vets and youthful talent, fans should stop expecting big names, and start hoping for big change.