The Albert & Ethel Herzstein Foundation deliver $500,000 to The Buffalo Soldiers National Museum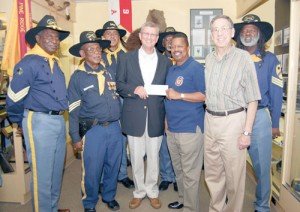 [caption id="attachment_1817" align="alignleft" width="300" caption="Buffalo Soldiers; L. Michael Hajtman, President of The Albert and Ethel Herzstein Charitable Foundation; Captain Paul Matthews, Executive Director of Buffalo Soldiers National Museum; Richard J. Loewenstern, Director of the Albert and Ethel Herzstein Charitable Foundation"]
The Albert and Ethel Herzstein Charitable Foundation gave a check of $500,000 to the Buffalo Soldiers National Museum on Tuesday, July 1, 2008. The matching funds will be the initial financing for the renovation of the historic Houston Light Guard Armory, future headquarters for the national museum. The facility is located on the corner of Caroline and Alabama street, in Midtown, across from the Houston Community College Central.
The Herzstein grant is the largest donation to date as a match grant coming from another Houston foundation. This donation represents the ongoing support the Herzstein Foundation has given the museum since 2002 as they continue the work of Albert and Ethel Herzstein, leaving their "footprints" by supporting charitable efforts that offer individuals opportunities for advancement through education and enrichment of the human spirit, and contribute to the quality of life in our society. The gift, along with future matching grants and corporate organizations, will bolster Buffalo Soldiers National Museum's efforts to raise $4.1 million to complete the facility.
L. Michael Hajtman, President of the Albert and Ethel Herzstein Charitable Foundation and Richard J. Loewenstern, Director of the Albert and Ethel Herzstein Charitable Foundation, delivered the check personally to Captain Paul J. Matthews, museum founder and executive director. The new museum facility will serve as a cornerstone for the history and military community in the nation. It will be a place as well for the African American community and other ethnic groups to trace their genealogical military involvement of their families with the Buffalo Soldiers. As one of the top donors, Herzstein Foundation will also have their name listed in a prominent place in the new facility.
"Now that the Herzstein Foundation has given the first major donation to our 2008 – 2010 Capital Campaign for the purchase and restoration of the Houston Light Guard Armory," said Captain Matthews, "we can now confidently seek other matching funds and large gifts from others. Another local foundation has agreed to meet the $500,000 gift from the Herzstein Foundation. When that check arrives, we will make another announcement and hope that the balance of $3.1 million will be given by other foundations and our corporate friends," Captain Matthews concluded.
The chair of the Capital Campaign is Tracye McDaniel, COO/Executive Vice-President of the Greater Houston Partnership. As part of the financial development of the BSNM Founders' Club, chaired by Steve Eason from the Houston Chronicle, donations from banks and corporations are currently being sought.