NFL's Finest Give Back in Honor of Late Educator & Coach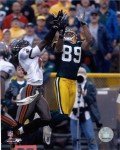 The names Jerome Bettis, Kevin Everett and Casey Hampton are synonymous with NFL training camps.  These men along with other athletes proved that Sunday's pastime, that we fanatically crave, extends beyond football.  These athletes remind us of the impending season, but recently, their attention was focused on supporting a noble cause during the Early Overstreet Cancer Research Foundation's 8th Annual Celebrity NFL Back to Camp Charity.
Under the leadership of founder, Brian Overstreet, the Early Overstreet Cancer Research Foundation was established in 2000 as a tribute to his father, the late Early Overstreet. The senior Overstreet, an educator, husband and father, lost his life to cancer in July 1999.  Overstreet, also president of EOverstreet Sports Management, created the foundation to help those affected by cancer while providing awareness of the disease.  "Starting this foundation gave me the chance to help individuals fight this disease and provides an opportunity to call my Dad's name everyday and keep his memory alive," states the young Overstreet.
Nine years after his death, Early Overstreet's spirit lives within countless individuals he touched and the organization continues the legacy of Overstreet, a former Houston Independent School District coach, athlete and role model.
The foundation's festivities included a cocktail reception chaired by dignitaries Ron and Hillary Green.  A shining moment of the event was the 2008 Survivor Award, presented to Dr. Leslie Bowie Wells Brooks, an area dentist and cancer survivor who was diagnosed in 2006, when she was nine-weeks pregnant.  Dr. Bowie Wells Brooks humbly accepted this year's award and shared her cancer challenges during the pregnancy.  "I am very honored to receive this award and this is not about me, as I am grateful to my God.  Being a survivor has allowed me to do something for a greater cause," she states.   She adds that she looks forward to celebrating her daughter's   birthday this August.
Councilman Peter Brown presented a proclamation to the Overstreet Foundation and a surprise token of love, in that of a golf bag, was presented to the organization's founder from his mother, Johnanna Overstreet.  The bag probably came in handy the following day when Overstreet and his associates hit the links for the foundation's golf classic.
"Athletics is the most recognizable venue for awareness to get people to listen," explains Overstreet.   He stated that athletes' time is a gift and that donating time to worthy causes is encouraged at EOverstreet Sports.
When asked what his father's thoughts would be if he were here to reflect on his contributions, Overstreet admits he would say, "that's my boy".   Brian Overstreet's compassion for the community and love for his father, would lead many to proclaim his actions are a testament of a great man that would make any father proud.
Individuals wishing to support the Early Overstreet Foundation can log onto www.eocrf.org or call 713/228-4529.  Your support joins you with the NFL's Bettis, Everett and others in this charity event, as we gear up for the 2008 NFL season.  Dun…Dun…Dun…Dun-n-n, NFL athletes making a difference--now, that's football music to my ears!!