Bo Diddley The Day the Original Sound of Music Died
JGoode | 6/5/2008, 9:47 p.m.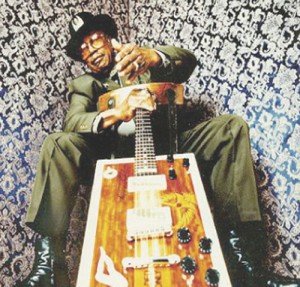 Most artists today create music using basically the same beats and sounds to create common rhythms. Musical rhythms are just sort of recycled or remixed. What about going the extra mile to originate a sound and make it uniquely your own? That is something legendary Bo Diddley did. The original sound of Bo Diddley died on June 2, 2008.
At the age of 79, rock legend Bo Diddley succumbed to complications from heart failure at his home in Archer, Florida. "One of the founding fathers of rock'n'roll has left the building he helped construct," his management agency, Talent Consultants International, said in a statement.
On May 12, 2007, Diddley suffered a stroke after a concert in Council Bluffs, Iowa. Three months later he was stricken with a heart attack. Already battling a history of hypertension and diabetes, Diddley's health was on the decline, but his family was not prepared for his death. Garry Mitchell, one of more than 35 family members by Diddley's side when he passed said, "There was a gospel song that was sung, and he said 'Wow!' with a thumbs up. The song was 'Walk Around Heaven' and in his last words he said that he was going to heaven."
Born on December 30, 1928, Diddley was born as Ellas Otha Bates McDaniel in the heart of the Mississippi Delta.  He was raised as the adopted child of his mother's cousin, Gussie McDaniel. His musical career took flight in 1934 while playing in a band called the Hipsters. From there he went on to be a regular at the 708 Club in Chicago, IL later teaming up with Billy Boy Arnold, Clifton James, and Roosevelt Jackson. The inevitable soon followed and he became a solo act backed up by his heart-rocking, soul-thumping band and the distinctive sound of his twanging guitar.
Bo is survived by his brother, four children, 15 grandchildren, 15 great-grandchildren, and three great-great grandchildren. Forever will he be remembered for his distinctive 4/4 rhythm pattern. With one sound people instinctually knew a Bo Diddley original was about to be played. He has been recognized by the Washington Area Music Association's Hall of Fame, Rock and Roll Hall of Fame, Rockabilly Hall of Fame, Rhythm and Blues Foundation, Grammy Hall of Fame, and many others.
Houston Style Magazine expresses sympathy to the family of Bo Diddley.