Diabetes
Tonja Ward | 6/12/2008, 5:50 p.m.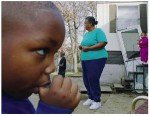 There are three main types of diabetes, Type 1, gestational and  Type 2.  People with Type 1 (juvenile-onset) diabetes, are dependent on insulin injections for survival. Gestational diabetes is a form of glucose intolerance diagnosed in some women during pregnancy.
The largest number of all diagnosed cases of diabetes, accounting for 90%-95%, is Type 2 (adult-onset) diabetes.
More than 20.8 million people have diabetes in the United States, and about 40 percent of U.S. adults ages 40 to 74, or 41 million people, currently have pre-diabetes.
Diabetes in Minority Groups
On average, African Americans are 2.2 times as likely to have diabetes as Whites and are more likely to experience complications of diabetes. When adjusted for age, African American women have a higher risk of diagnosis than non-Hispanic Whites, African American men, or Hispanics.
Risk Factors
The most common risk factors for diabetes  are older age, obesity, family history of diabetes, sedentary lifestyle, high-calorie diet and gestational diabetes.
Prediabetes - a condition where blood glucose levels are higher but not high enough to be classified as diabetes is a risk factor for type 2 diabetes, heart disease and stroke.  The progression from pre-diabetes to diabetes is not inevitable.  With weight loss and increased physical activity diabetes can be delayed or prevented.
Some of the complications that can result from diabetes include heart disease, high blood pressure, blindness, dental disease, coma, and suseptability to other illnesses often with worse prognoses. Kidney disease and amputations of lower extremities (legs and feet) can also result and are more common in African Americans with diabetes.
Minorities Know More But Do Less
According to a study published in the May issue of the "American Journal of Public Health", African-Americans who have family members with diabetes, and a large percentage of those who do not, have a better than average awareness of the disease's risk factors. However, that awareness does not necessarily translate into leading a healthier lifestyle. A similar American Heart Association survey found Hispanic participants' awareness and knowledge of diabetes risk factors and the importance of managing their disease extremely high. Yet, findings similarly showed that many Hispanic patients do not act on this knowledge or make lifestyle changes that will help them better control their diabetes.
In the African American Awareness study "(we) hypothesized that persons with a family history of diabetes would be more aware of risk factors for diabetes, however, we were surprised that they were not more likely to engage in more of the healthy behaviors compared to persons without a family a history," said study co-author Tiffany Gary, Ph.D., of the Johns Hopkins Bloomberg School of Public Health.
From Awareness to Action
"Education is part of the answer," said Kate Lorig, R.N., a professor at Stanford University's Patient Education Research Center. "But what we really have to do is make it environmentally and educationally appealing to change behaviors, not just for diabetes, but for most chronic health conditions."
Some reasons for the inaction  could be that people may not be aware of national standards used to define overweight and obesity," said Gary. "Furthermore, it has been shown in several studies that there may be a greater acceptance of a heavier body size among African-Americans." She offers that one approach would be to improve awareness of health risks associated with being overweight or obese and accurate perceptions of defining overweight and obesity," Gary said.
Quick Facts
African American adults were 1.8 times more likely than non-Hispanic white adults to have been diagnosed with diabetes by a physician.
For individual and group Healthy Lifestyle programs visit http://www.wardwellness.com.
Sources:
• http://www.americanheart.org
• http://www.omhrc.gov/templates/content.aspx?ID=3017
• http://www.hbns.org
• http://www.minoritynursemagazine.com
• http://www.womentowomen.com