Girl Scouts Celebrate Black History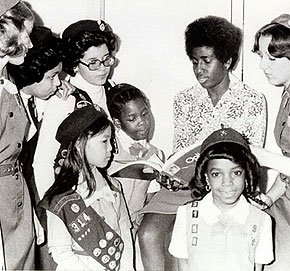 During the 1940's, the Houston Girl Scouts established Camp Robinwood in Willis, Texas, which was a gift from four African-American businessmen, J.H. Jemison, Hobart Taylor, Carter Wesley and A.C. Dupree. The two hundred acres were donated for all Girl Scouts regardless of race.
In the mid 70s, Girl Scouts' proudly inducted its first African-American National President. After having been a Girl Scout in her youth and volunteering throughout her adult years as well, native Houstonian and Jack Yates High School alumnae, Dr. Gloria D. Scott served as National President from 1975 to 1978.
Today's Girl Scouts reflect the ethnic diversity of the community, and celebrate the contributions of African-Americans throughout history. Brownie Girl Scout Lacy Tushnet researched one of America's greatest pioneers, Harriet Tubman, known as "Moses" in history books for creating an "underground railroad" to help free American slaves. "It was so interesting to learn about Harriet Tubman," said Tushnet. "She risked her life to do the right thing."
Girl Scouts of the USA is the world's preeminent organization for girls, with a membership of more than 3.5 million girls and adults. Today, as when founded in 1912, GSUSA helps cultivate values, social conscience, and self-esteem in young girls, while also teaching them critical life skills that will enable them to succeed as adults. Girl Scouting builds girls of courage, confidence, and character, who make the world a better place.
Chartered by GSUSA to provide Girl Scouting locally, Girl Scouts of San Jacinto Council is one of the largest Girl Scout councils in the country serving over 64,000 girl members and 18,000 adults in 26 southeast Texas counties. For more information, call 713-292-0300 or visit www.gssjc.org.