Road Scholar Honors Dr. Asa G. Hilliard's Vision with Travel Scholarship for Educators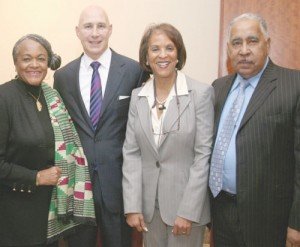 [caption id="attachment_4781" align="alignleft" width="300" caption="Patsy Jo Hilliard, former mayor of East Point, GA and the widow of Dr. Asa G. Hilliard; James Moses, President and CEO of Elderhostel; Kathy Taylor, Associate Vice President of Community Development at Elderhostel; and Dr. Quentin Lawson, executive director of the National Alliance of Black School Educators (NABSE)."]
Road Scholar is pleased to announce the Asa Grant Hilliard III Road Scholar Award for Lifelong Learning — a $5,000 scholarship named in honor of the late Dr. Asa Grant Hilliard III, world-renowned Pan-Africanist, educator, historian and psychologist, who remains an icon for his advocacy of the importance of African history, culture and influence; for his global contributions to education; and for his special affinity for conducting study tours to Egypt for thousands of travelers.
Launched in 2004, Road Scholar is an initiative of Elderhostel (www.elderhostel.org), the world's largest not-for-profit educational travel organization for adults.
Road Scholar will award the scholarship in 2008 to an African-American educator with at least 10 years of experience in education who is a member of the National Alliance of Black School Educators (NABSE) — the largest national association of African-American educators, a professor of African-American studies, or on the faculty of a Historically Black College or University (HBCU.) The scholarship will provide the opportunity to experience a Road Scholar or Elderhostel program anywhere in the world.
Applicants will be asked to write an essay focused on the importance of lifelong learning to the African-American community and to describe the ways in which they will utilize their learning/travel experience with Road Scholar to positively influence and make a difference in their communities – to truly reflect Dr. Hilliard's philosophy about educational travel.
In responding to the scholarship award, the honorable Patsy Jo Hilliard, widow and life partner of Dr. Hilliard, said, "I am pleased that travelers will have the opportunity to explore new sites and return home and make significant contributions to their communities and/or classrooms on new information gained on the program, which can improve the quality of life for all involved. This is what Dr. Hilliard focused on in his travels – study, study, study."
Applications and nominations will be accepted until August 31, 2008.  A winner will be selected by a panel that includes experts and leaders in education and lifelong learning, as well as a member of  the Hilliard family. The award will be presented at the November 2008 meeting of NABSE in Atlanta, Ga. Quentin Lawson, executive director of NABSE commented, "Teachers and other educators have long known the value of lifelong learning; we are delighted to work with Elderhostel and Road Scholar to present the opportunity to learn and travel to dedicated educators."
The Asa Grant Hilliard Award III Road Scholar Award for Lifelong Learning is part of a national outreach initiative Elderhostel and Road Scholar recently launched to introduce its educational adventures to the African-American community and promote the benefits of learning through travel. The scholarship award was announced at a reception in Atlanta, Ga., where more than 300 guests including Quentin Lawson, Dr. Willie Foster, president of the NABSE Atlanta chapter, and the honorable Patsy Jo Hilliard, were on hand to sample a taste of the Road Scholar program. Road Scholar will extend its outreach to other cities across the U.S., including Washington, D.C. Philadelphia and Chicago among others.
"Education has always been at the core of our mission," explained James Moses, president and CEO of Road Scholar and Elderhostel.  "As a lifelong learner and proponent of learning and travel, Dr. Hilliard lived the values we espouse. We are pleased to offer this scholarship in his memory to provide an opportunity for an outstanding educator to experience a learning adventure with Road Scholar or Elderhostel."
For more details on the scholarship and Road Scholar visit www.roadscholar.org/hilliardaward.