Baseball Assistance Team (B.A.T.) Raises $1.5 Million During 2009 Spring Training Tour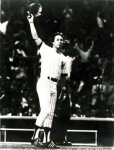 [caption id="attachment_4952" align="alignleft" width="114" caption="Bobby Murcer, a five-time All-Star who went on to a successful broadcasting career, died July 12 after a battle with brain cancer."]
The Baseball Assistance Team (B.A.T.) today announced that they have collected nearly $1.5 million during their seventh annual Spring Training tour to raise funds for members of the baseball family in need.  B.A.T. also announced that the New York Yankees (American League—AL) and the Houston Astros (National League—NL) are the first recipients of the Bobby Murcer Award.  The award is given to the team in both the AL and NL whose players contribute the most amount of money to B.A.T. through the Major League Baseball (MLB) Payroll Deduction Program.  The award will be presented by Bobby's widow Kay during the 2010 Annual B.A.T. Dinner.
During the Spring Training tour, which is B.A.T.'s largest annual fundraiser, approximately 800 Major/Minor League players, managers and coaches committed nearly $1.5 million in donations to B.A.T., totaling more than $7 million pledged over seven years.  This was approximately a 7% increase in monetary contributions compared to last year's tour.  The donations will be made through MLB Payroll Deduction Program, which allows players, managers and coaches to provide funding for B.A.T. throughout the course of the season.
"The B.A.T. organization would like to extend our sincere thanks to everyone around Major League Baseball who donated and made our trips to Florida and Arizona worthwhile," said B.A.T. Executive Director Jim Martin. "Especially in today's economic climate, their generous contributions will go a long way in helping members of the baseball family.  I would also like to send a special message of gratitude and congratulations to the baseball personnel of the New York Yankees and Houston Astros organizations for making the largest contribution in their respective leagues.  We are honored to award them the Bobby Murcer Award at next year's B.A.T. Dinner."
During the tour, representatives from B.A.T. including Randy Winn, Ted Sizemore, Cookie Rojas, Sam McDowell and Robin Roberts took time at various clubhouses to assist with the fundraising efforts.  Joining the B.A.T. representatives for the presentations were several B.A.T. recipients who shared stories of the positive effects B.A.T. has had on their lives and those of their families.
Entering its 24th year, B.A.T. is a unique organization within the sports industry as it is the only formal initiative among the major sports leagues dedicated to assisting members of its family who are in need. B.A.T.'s assistance takes a variety of forms including financial grants, healthcare programs and rehabilitative counseling.  Through charitable contributions from corporations, foundations and individuals, B.A.T. strives to provide a means of support to people who are unable to help themselves.
B.A.T., a 501 (c) 3 charitable organization, has awarded more than $18 million in grants to date, benefiting more than 2,300 members of the baseball family, including former Major League players, managers, coaches, scouts, umpires, athletic trainers, front office personnel as well as Minor League players, Negro League players, their widows and children and players from the Women's Professional Baseball League.  All aid provided by B.A.T. is strictly confidential, allowing those in need to receive help discreetly.
For more information about B.A.T. or to make a donation, please visit: http://www.baseballassistanceteam.com.