Eat Delicious Food and take a DTOUR around Diabetes
Tonja Ward | 4/2/2009, 11:30 p.m.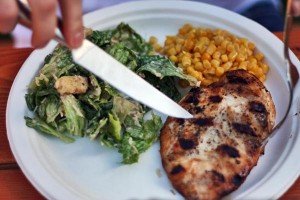 Once diagnosed, many diabetics see food as the enemy, what they can't have and deprivation of something they love.  A grim new way of life, right? Well, Prevention teamed up with leading diabetes experts to design a program where delicious food is the solution not the problem. It's The Diabetes DTOUR Diet.
"The latest cutting-edge research shows that specific nutrients in foods are especially powerful at fighting fat, balancing blood sugar and getting you out of the diabetes danger zone, or even avoiding it all together. And when eaten together, they are even more effective," explains Prevention Brand Editor Marlea Clark.  "We call these four nutrients "The Fat-Fighting 4"—they are: calcium, vitamin D, Omega 3, and fiber –and they are the core of the Diabetes DTOUR Diet," says Clark.
So just how does this plan work? Well for one don't let the word "Diet" fool you.  It is really more of a 6 week transformation to help you learn how to eat and live well for the rest of your life.
In October, Prevention put DTOUR to the test in the heavily African-American city of Jackson, MS where diabetes has reached epidemic levels. "In the 6 weeks that our eight test panelists followed DTOUR, they lost nearly 130 pounds and 30 inches among them," reported Marlea Clark. The results also included drops in blood sugar levels. The test panelists and their fabulous success stories are featured in the April issue of Prevention and at prevention.com.
One of the reason it may be successful is because with DTOUR deprivation is not a part of the plan! Clark explains that "On DTOUR you eat frequently: Every 3 hours, for a total of three meals and two snacks a day. Eating at regular intervals keeps blood sugar steady, which helps tame hunger, prevent overeating, and maintain high energy levels. Studies show that people who eat less often during the day actually weigh more than those who consume the same number of calories but eat more frequently."  The bonus adds Clark is that "the food that you'll be eating is rich and satisfying.  For example: quesadillas, tuna melts, chipotle pork,   —even fudgy chocolate brownies and an ice cream sundae!"
Prevention is committed to helping the 3.7 million African Americans with diabetes wage war against it and is planning outreach events through Diabetics, a grassroots organization with a focus on preventing and controlling diabetes in African-American women.  Additionally Prevention developed 'What's Your Sugar Score?' a quick and simple online quiz that allows people to obtain a sense of whether they are at risk.
If you are walking around tired and hungry and have trouble losing weight, high blood sugar may be to blame. Log on to www.dtour.com/sugarscore to check yourself and encourage your family and friends to do the same.  Another way to work on your FITatude and stay FIT (Families & Friends Feeling Inspired Together).  You can also begin your transformation with the FITatudes annual Spring Cleanse which starts April 6th.  Email info@fitatudes.com to sign up.  We just want you to find something that FITs your life so that you can lead a High-Performance Lifestyle.