Woodford Reserve Bourbon Releases 2009 Kentucky Derby Bottle in Texas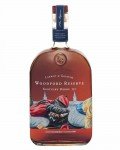 "Much as we try, it's impossible to express in words the intensity of racing from a jockey's perspective," said artist Tom Chapman. "My goal is to capture it with a paint brush and canvas, often using unique angles and vibrant colors to set the tone. But no painting can truly capture the vibrancy and intensity of the Kentucky Derby."
Chapman's vibrant, colorful image captures the excitement and intensity of the Kentucky Derby as two jockeys in brightly-colored silks concentrate on the race with the historic Twin Spires of Churchill Downs in the background. The artist's signature adorns the neck band of the bottle, and an attached tag bears information about the artist and product. The limited edition liter-size bottle will be available beginning in early April throughout the nation in 38 states.
"Woodford Reserve is honored to partner with an artist who can capture the sport from a jockey's viewpoint," said Laura Petry, Woodford Reserve brand manager. "As the signature bourbon of thoroughbred racing, we are proud to continue our partnership with Churchill Downs® and the Kentucky Derby."
Woodford Reserve Bourbon is the "Official Bourbon of Kentucky Derby 135" and has served as the official bourbon for the past eleven years. It also sponsors a Grade I race, the Woodford Reserve Turf Classic, which is run on Derby Day, May 2, 2009, and has become one of thoroughbred racing's premier events.