Black Business Builders Teach Entrepreneurs Cooperative Economics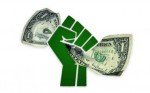 All the members of the BBBC have unrestricted access to numerous business building tools and marketing resources that are added and updated consistently within the club website. The BBBC also conducts constant business building training sessions on how to effectively use the club's resources to reach their personal goals. The members of this club report that this training combined with all the cutting edge tools and business building techniques has greatly improved their business knowledge and bottom line profits, while simultaneously creating an additional income source that supports their business.
The primary purpose of the BBBC is to educate and empower its members. They teach the importance of cooperative economics and the value in the utilization of Black owned businesses and services. The club encourages the recycling of Black earned dollars to strengthen the economic power of the entire community. The Black Business Builders Club is packed with vision, purpose and value. There is nothing but better things ahead for the Black Business Builders Club.
For membership information visit BlackBusinessUnited.com