Oran Roberts Elementary School Celebrates Peace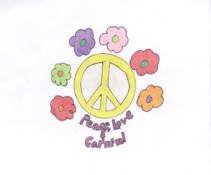 Incorporating an additional IB concept, creativity, and as part of an educational unit on advertising, the second grade classes created 60's themed logos and submitted them for review by the entire student body. The winner, Chloe Starr, created a logo that will be used on all promotional materials, flyers and t-shirts, emphasizing for the students the impact of a clear, illustrative image on an audience. Other students created 'radio' ads – used in AM/PM school wide announcements –'TV' ads – shown in the café at lunch – and table tents placed on the café tables.
"The Carnival is a celebration of another year of hard work," said Linda Smith, principal of the school. "I am excited about this year's carnival because the theme is so timely and because we have so many new coordinating activities. I'm especially proud of the way the second grade teachers incorporated the theme into their IB planner."
New to the carnival this year is a ride exclusively for the parents! Momentum Volkswagen and Volkswagen of America, a brand as popular in the 60's as it is today, will bring a VW Bug, a van and other models for parent joy rides. VW will donate $5 to Roberts for every test drive. The school hopes to raise an additional $500 with this promotion alone.