The Levant Foundation Presents FUSION: Art, Music & Culture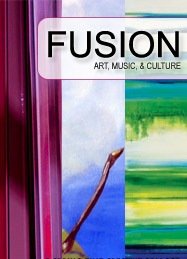 LOUISE CHEHLAOUI:"I create art through experimentation with several mediums: acrylic, oil, charcoal, watercolor, and pen and ink," explains Artist, Louise Chehlaoui. "I use these traditional mediums and try to put a contemporary edge on them. Nature is perhaps my biggest inspiration; therefore I have infinite subjects to work from."
Often inspired to paint a subject simply because it will make a beautiful painting, Mrs. Chehlaoui explains, "every day I see some vision to be placed on paper or canvas." Struggling to stay with one particular medium, her work becomes a collection of various styles.
"Subjects come from all things around me, even the daily news. I use the extreme contrast of black India ink on white paper to abstract some of the shocking news photos on the front pages of newspapers. I love the mystery in black and white and spend hours experimenting with line and shape, trying to keep the paintings as free as my mind will allow."
Mrs. Chehlaoui's seascapes come from mental images of beaches she has visited in the past. She attempts to convey the calm, serenity and azure colors on her canvas. "I remember from those visits. I simply go to the beach on my canvas, step inside, take a deep breath, and relax…."
RANIA DANIEL:"My work mainly relies on my search for ones' identity," explains Artist, Rania Daniel. "New experiences appear side by side; memories from the past contradict each other and sometimes blend to form a whole." Mainly shown through Mrs. Daniel's work on paper, she uses a combination of photographic prints, collages, and oil paint. These works are earthier with time and space being an important element in them.
"My work on canvas is different, having a more physical quality and a very tactile nature, showing layers of colors. The light is there, shifting in movements in a more serene way, fragments of ancient memories scattered on the canvas," she continues. It is a search of color, a series of landscapes depicting linear horizontal lines, overlapped by transparent washes.
It also deals essentially with notions of identities, memory, and reminiscence. "In my work on paper a sign "Open" becomes a symbol of a city struggling to survive, reopening its doors, continuously rebuilding…constantly collecting its scattered pieces, its mosaic of various communities into a whole again, into a stronger unified identity."
The modern overtakes nature and history, as illustrated in Mrs. Daniel 's depiction of old Lebanese homes that stand destroyed and disappearing. Fragments of a past emerging softly amid the numerous signs of modern life, these contradicting elements demonstrate the struggle to find individual identity and balance amidst the chaotic complex and lively city.
Beirut…
The city with its ocre tones embraced me again…
Its dusty sidewalks, imprints of a turbulent past…
Its aromas of thyme, sesame and sea breeze are contrasted by a vibrant blue sky…
Its scattered fishermen on amber rocks, against blue green shades of the Mediterranean sea
Alive, noisy, the city drags you amidst a storm of sand, dust, loud traffic noises, fading red tiles and concrete.