Astros Complete Keppinger Trade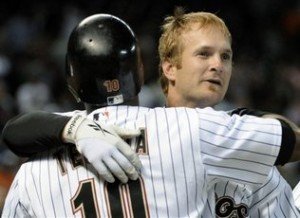 The Astros originally acquired Keppinger from the Reds on March 31, 2009, in exchange for a player to be named later.
Keppinger, 28, is hitting .467 (7x15) with one home run and two RBI in six games as an Astro in 2009. He has started a total of four games, including two at second base and two at third base. Keppinger is a five-year veteran and has appeared in Major League games for New York-NL (2004), Kansas City (2006), Cincinnati (2007-08) and Houston (2009).
Sutton, 25, has posted a .267 (4x15) average in five games with Round Rock this season. In five minor league campaigns in the Houston organization from 2004-08, Sutton has hit .282 (588x2085) with 61 home runs and 240 RBI. He was originally selected by the Astros in the 15th round of the June 2005 draft.