Hallmark Channel Pays Tribute To Bea Arthur With 'Golden Girls' Marathon Memorial Day May 25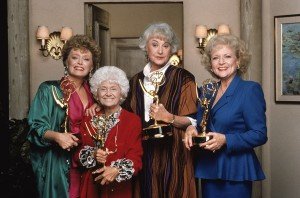 Arthur, nominated for eight Emmy® Awards , remarked in 2001 that she "flipped" when she read the pilot script for "Golden Girls."
"After all the crap I had been sent, here was something so bright, adult, and fabulously funny," Arthur said.
Henry Schleiff, President and CEO, Hallmark Channel and Hallmark Movie Channel HD, said, "It is impossible to overstate Bea Arthur's impact on TV culture. She is actually one of a handful of comediennes who genuinely altered the direction of the medium in which she starred.
"'Golden Girls' is a recent acquisition for Hallmark Channel, and though it was first broadcast 25 years ago, the classic series has the most dedicated fans and strikes gold wherever it plays. It became an instant hit on our network.
"Putting an entire day of Dorothy-centric stories on Memorial Day allows Hallmark Channel the opportunity to truly memorialize this immensely talented, unapologetic, and incomparably adept star Bea Arthur. To all the "Golden Girls," we say, 'thank you for being a friend.'"
Arthur was a Broadway sensation whose portrayal of Vera Charles in Mame won her a Tony and the admiration of Lucille Ball who insisted that Arthur be cast in the film version .
In the second transformation of her show business career, Bea Arthur was 50 years old when she was brought to Hollywood to star in the controversial comedy "Maude," for which she scored five Emmy nominations and one win. "Golden Girls" followed, though the star felt after six seasons that it was time for her to move on. Arthur was last nominated for an Emmy® Award for her guest starring role in "Malcolm in the Middle" in 2001. The star last appeared on television in an episode of "Curb Your Enthusiasm" in 2005.
"Golden Girls" plays daily on Hallmark Channel [Monday-Friday, 8-10 a.m., 7-9 p.m., 12-2 a.m., Saturdays 6-9 a.m., Sundays 8:30-10 a.m.].