Free Screenings news release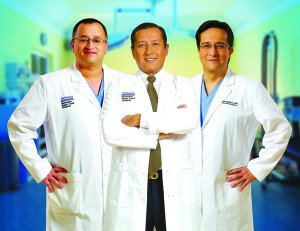 [caption id="attachment_7247" align="alignleft" width="300" caption="Dr. Imran Mohiuddin, M.D., vascular surgeon; Dr. Luis Echeverri, M.D., cardiothoracic surgeon; Dr. Ulises Baltazar, M.D., vascular surgeon & Dr. Anwar Ahmad, M.D. interventional cardiologist (not pictured) will be present at the screening. "]
Methodist Sugar Land Hospital will host free vein and peripheral vascular disease screenings on Saturday, May 9th from 8 a.m. - 12 p.m. PVD Screening
Leg pain that occurs with walking and stops at rest, sores that won't heal and constant severe leg pain could be symptoms of peripheral vascular disease (PVD). This potentially serious vascular condition, also known as peripheral arterial disease or PAD, puts people at increased risk for heart attack, stroke and amputation. "PVD occurs when arteries become narrowed or blocked due to plaque deposits and changes associated with aging, diabetes, high cholesterol, hypertension and smoking," says Ulises Baltazar, M.D., a vascular surgeon on staff at Methodist Sugar Land Hospital. "People need to realize that clogged vessels leading to their legs can also increase the likelihood of blockages in arteries to the heart and brain."
At the May 9th screening, staff will perform an ankle-brachial index test — comparing blood pressure in the upper and lower extremities. A lower reading in the ankle than in the arm may be a sign of PVD. Other noninvasive diagnostic tests include ultrasound and special imaging scans. "To treat PVD, doctors often recommend positive lifestyle changes — diet, exercise and smoking cessation — and medications that lower blood pressure and cholesterol," says Dr. Baltazar. "However, some patients may require surgery." Specialists in vascular surgery and interventional cardiology practicing at Methodist Sugar Land Hospital apply the most advanced technology to treat PVD safely and effectively. The most common treatment is angioplasty, a minimally invasive procedure that opens arterial blockages and restores blood flow.
Vein Screening
"Venous insufficiency", "venous reflux" and "venous incompetence" are all synonymous – these terms all refer to the veins inability to adequately move the blood that is below the heart upward towards the heart. The result is that the veins become enlarged and visible as bluish cords underneath the skin (varicose veins). Symptomatic superficial venous insufficiency and varicose veins are very common, affecting more than 25 million Americans.
Varicose veins are more frequent in women. In addition to varicose veins, untreated venous insufficiency can lead to other ailments, including blood clots (phlebitis), leg ulcers (breaks in the skin), bleeding infection and stasis (skin) changes in the legs. Fortunately, the superficial veins in legs can be removed with minimal or no consequences. The good news is now there is an easy way to diagnose and treat venous insufficiency!
FREE SCREENING
Physicians at Methodist Sugar Land Hospital will perform free screenings for PVD and venous insufficiency: Saturday, May 9th starting at 8 a.m. to 12 p.m. in Conference Rooms A, B, C and D off the main hospital atrium. Registration is required and seating is limited; call 281-274-7500.