Mayor Issues Proclamation for National Minority Cancer Awareness Week at Annual Luncheon Symposium, "Health Disparities: Change is Here and Now"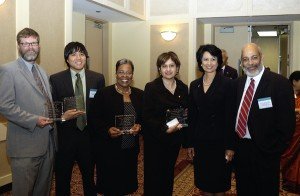 [caption id="attachment_7359" align="alignleft" width="300" caption="Dr'sLane,Mendoza,Hargrave,Olvera,KhatorJones"]
April 19-25, 2009, was officially designated National Minority Cancer Awareness Week (NMCAW) in a proclamation from the Mayor's office presented at a luncheon sponsored by M. D. Anderson's Center for Research on Minority Health (CRMH) held on April 23rd. M. D. Anderson's Provost and Executive Vice President, Raymond DuBois, Ph.D., Vice President and head of the Division of Cancer Prevention and Population Sciences, Ernest T. Hawk, M. D., M.P.H., and CRMH Director and professor of Health Disparities Research, Lovell A. Jones, Ph.D. were on hand to receive the proclamation. The festive event, complete with an intriguing Indian dance performance by the Anjali Center of Performing Arts, acknowledged the work of scientists and researchers that aim to eliminate health disparities in the Houston community and featured keynote speaker, Renu Khator, Ph.D., chancellor and president of the University of Houston.
Dr. Khator, also the mother of two physicians, began her speech sharing her story of going to the doctor with a screen through which she filters what she is being told. That screen includes her mother in India and other relatives who have successfully used herbs, spices and other traditional therapies in place of the conventional medicines or methods that her physician may be prescribing. This screen is one that many minorities relate to but, the medical profession has not yet figured out how to manage. As a result the gap widens between the health profession and the minority patient and in turn can lead to disparities. This is one of the many reasons why the work of the CRMH is so important.
This year's honorees included:
• Martha Hargraves, Ph.D., M.P.H. an expert minority health and health disparities researcher, and former Health Policy & Service director at University of Texas, Galveston
• Rebecca Lee, Ph.D., the founding director of the Texas Obesity Research Center,
• Jason Mendoza, M.D., M.P.H., Assistant Professor in Pediatrics at Baylor College of Medicine, and
• Norma Olvera, Ph.D., Associate Professor in Health and Human Performance at the University of Houston.
Lovell A. Jones, Ph.D., professor in M. D. Anderson's Health Disparities Research Department and director of CRMH said, "It was truly an honor to have Dr. Khator as our keynote as CRMH enters its second decade of addressing the issue of minority health and health disparities locally, regionally and nationally."
"Dr. Khator's keynote was truly on target. Her opening comments were about how she, even at her level of achievement and prominences, presents a problem for the health establishment in treating her medically. I do hope that those in the audience from the medial and health professions heard her message," said Dr. Jones.
National Minority Health Month aims to bring attention to improving the health of minority populations through the development of programs and policies that eliminate health disparities. Through Dr. Jones' initiative, the third full week of April was officially designated National Minority Cancer Awareness Week (NMCAW) in 1987 by the U.S. House of Representatives Joint Resolution 119.
The CRMH also received recognition from U.S. Congresswoman Shelia Jackson Lee during the luncheon.
The CRMH is grateful to have had Quest Diagnostics, Novartis, US Oncology Foundation and Cigna as additional sponsors of the event.