Houston ISD Teacher Andrea Hill Finishes in Top 15
JGoode | 8/6/2009, 3:39 p.m.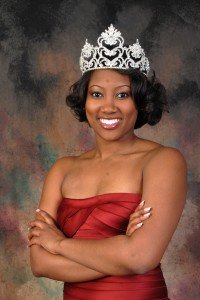 Before heading back to the classroom, Patrick Henry Middle School teacher Andrea Hill, the reigning Miss Black Texas USA 2009, headed to our nation's capitol this past week not to bone up on her American history but to compete for the prestigious title of Miss Black USA 2009.
Now in its 22nd year, the annual pageant was held at the University of the District of Columbia Theatre on Monday, August 3, 2009. Though Hill represented the great state of Texas extremely well on the national stage, Miss Black Pennsylvania USA Shayna Y. Rudd was crowned Miss Black USA 2009. The very optimistic Hill just smiled and noted the Miss Black USA experience was a once-in-a- lifetime opportunity of which she was glad to be a part.
Now the time has almost come for Hill to the pass the torch to another Texas beauty. The Miss Black Texas USA Organization will host its 7th Annual Miss Black Texas USA Scholarship Pageant during the weekend of November 20-22, 2009 in Houston, TX at the Hilton Southwest Houston Hotel on the Southwest Freeway. Both Hill and the reigning Miss Black Teen Texas USA Nicole Hickl will be on hand to crown their successors in the pageant that awards college scholarships to the winners. The new Miss Black Texas USA 2010 will also win travel and hotel accommodations to the national Miss Black USA Pageant.
The Miss Black Texas USA Pageant has three divisions. Teenagers between the ages of 14-18 are encouraged to apply for the title of Miss Black Teen Texas USA 2010 and ladies between the ages of 18-27 may vie for Miss Black Texas USA 2010. New this year is the addition of the Ms. Black Texas USA title for those ladies who are 21 years and older, married and have children. All contestants will compete in private interview, fitness, talent, evening gown, and on-stage question and answer.
Those who are interested in participating in the Miss Black Texas USA Scholarship Pageants may register online at www.blackpageants.com. Those interested in sponsorship opportunities may email Candace Thomas at sponsorships@blackpageants.com. For more information about the Miss Black Texas USA Organization or to have Miss Black Texas USA and/or Miss Black Teen Texas USA make an appearance at your event contact JC Goode at jc@blackpageants.com.