2009 Global Leadership Empowerment Awards Gala
Vicky Pink | 8/26/2009, 8:05 p.m.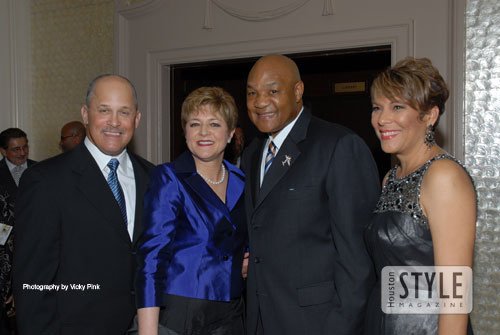 On Thursday, August 27, 2009, Houston Style Magazine was on hand at the 2009 Global Leadership Empowerment Awards Gala at The Houston Club, featuring Dr. Myles Munroe. Chaired by CEO of TWEF, Dr. Deavra Daughtry of Excellent Care Management, the summit hosted workshops and luncheons that were open to the public at the Federal Reserve Bank and were presented by Capital One Bank and Wealth Development Strategies. Great Day Houston's Deborah Duncan emceed the culminating activity, the awards gala, with entertainment provided by Barbara Tucker and Texas Southern University Jazz Ensemble. World Heavyweight Champion and Entrepreneur, George Foreman, was presented with the Global Leadership Empowerment Award. The 2009 International Leadership Award honorees were Helen Cavazos, Dr. Margaret Ford Fisher, Lupe Fraga, James Garavaglia, Elsie Huang, Richard "Dick" Huebner, Wea Lee, Annella Metoyer, Jamey Rootes, and The Honorable Sylvester Turner.