SAW, The Wolfman, Chucky and More Are "Ripped from the Silver Screen" at The Country's Best Halloween Event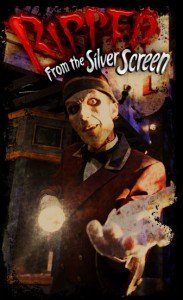 For the first time ever, Universal Orlando is devoting its entire Halloween Horror Nights event to bringing horror films to life. All eight haunted houses, all six scare-zones and two live shows will be directly inspired by some of today's most popular horror films.
In another first, guests will experience three powerful mega-horror film concepts live and in-person before seeing them on-screen: "SAW," the legendary horror series from Lionsgate® and Twisted Pictures, due in theaters with its newest release of "SAW VI" this October; "The Wolfman" from Universal Pictures, in theaters February 2010; and "Cirque Du Freak: The Vampire's Assistant," also from Universal Pictures, due in theaters October 2009. There will be two additional houses inspired by cult horror films.
"Our guests are going to feel as if their favorite horror films have left the screen and surrounded them," said Jim Timon, senior vice president of entertainment for Universal Orlando Resort. "They will come face to face with many of the most disturbing characters in film history. When they leave Halloween Horror Nights, they'll wish their experience was just a movie."
The terrifying world of "SAW" – one of the most profitable horror franchises to date – will be transformed into a haunted house featuring iconic scenes from the films such as Jigsaw's lair and the tomb-like bathroom. Guests will come face to face with Jigsaw and also watch as his victims struggle to try and win at his game.
Before guests can see the "The Wolfman" on-screen, they will be able to live its horror. In this house they will walk through scenes from the film, joining "The Wolfman's" alter-ego Lawrence Talbot as he discovers a primal side of himself he didn't know existed.
A world where toys go bad is brought to life in a haunted house inspired by the "Chucky" films. Guests will experience a funhouse lead by the sadistic doll where favorite children's toys aren't what they seem.
This year's Halloween Horror Nights will also include dramatic new interpretations of Universal Pictures' famed Frankenstein and Dracula. Both will be featured in their own houses and both will be more horrifying and intense than ever before.
In the Silver Screams haunted house – based on a demented movie theater run by a supernatural usher – guests will experience "Shaun of the Dead," Universal Pictures' "The Phantom of the Opera," Lionsgate®'s "My Bloody Valentine 3D" and more.
Two live shows inspired by popular films return this year – the entertaining "Bill and Ted's Excellent Halloween Adventure" and "The Rocky Horror Picture Show: A Tribute."
Halloween Horror Nights runs September 25-26, October 1-4, 8-11, 15-18, 21-25 and 28-31.
Daily updates and exclusive details on Universal Orlando's Halloween Horror Nights are available on the event's official Facebook fan page: www.facebook.com/halloweenhorrornightsorlando or search on Facebook for "Universal's Halloween Horror Nights – Orlando OFFICIAL."
Advance tickets are now on sale for $69.99 plus tax. Tickets can be purchased at www.HalloweenHorrorNights.com or by calling 1-888-467-7677 (HORROR-7). Due to the event's popularity, tickets for weekend nights are expected to sell out and should be purchased well in advance.
For special deals and vacation offers, visit www.HalloweenHorrorNights.com.