HISD Teachers of the year to be honored by city council on Tuesday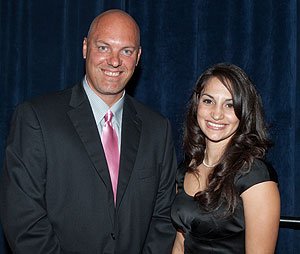 [caption id="attachment_12793" align="alignleft" width="300" caption="Dennis Huffman (left), an integrated physics and chemistry teacher from Lanier Middle School, and Tiffany Janish, a kindergarten teacher from Oak Forest Elementary School, were named HISD's 2009 Secondary and Elementary Teachers of the Year (respectively) on May 11. A list of all winners and finalists is below."]
A kindergarten teacher at Oak Forest Elementary School and an integrated physics and chemistry teacher at Lanier Middle School have been named the top two educators in HISD for 2009.
Oak Forest's Tiffany Janish earned the Elementary Teacher of the Year title, while Lanier's Dennis Huffman received Secondary Teacher of the Year laurels at the district's 34th annual Teacher Recognition Banquet, held May 11 at the George R. Brown Convention Center.
When Elementary Teacher of the Year honoree Tiffany Janish began her freshman year in college, she had no idea what her major would be. But a few months later, she took a part-time assistant teaching job in a Montessori school—and knew "from day one" what she wanted to spend her life doing.
Janish's career in education began just three years ago, as a kindergarten teacher at Oak Forest. Now, she serves as a leader among her peers, particularly in the area of technology. "Any time they have issues with their computers or PALM Pilots, SMART Boards or SMART pads, I am there to help," she explained. "(And) if there is a committee to be chaired, then I am willing to chair it."
Janish bases her teaching philosophy on the power of positive reinforcement. "Students need to feel good about their learning," she said, "(so) I make sure I am specific in my praise. I let them know what it is they have done well."
Janish attributes her success to remaining organized. "Organization is the key," she noted. "I do not see how any teacher can be prepared if they are not organized. My students come first, and I do all I can to provide them with lessons to keep them stimulated. I am constantly arranging and altering the structures that surround my teaching to promote a productive learning environment. I want them hanging on my every word."
Secondary Teacher of the Year honoree Dennis Huffman also came to the education profession somewhat indirectly. Although teaching runs in his family, he said, "I always wanted to be a scientist. But as I approached the end of my science training, something finally dawned on me. I could either wash test tubes and be a graduate student for years to come, or I could give teaching a try after all."
Huffman joined the HISD family in 1989 as a science teacher at Jackson Middle School. He has been teaching that subject along with integrated physics and chemistry at Lanier since 1994, where he ascribes his success to "having a strong personal vision."
"Imagine the difference between a lecture about simple machines and one where kids create simple machines and learn to manipulate them in order to use the least amount of force," he explained. "In one classroom, the students passively take notes and learn a few facts. In the other, students are actively engaged, in control of their own learning, and are excited by the new experience. Knowledge without application is usually forgotten, but once it has been used constructively and meaningfully, it's permanently attached to their memory."