World Cup Hits Telluride This Week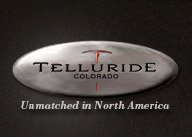 The 2009 Snowboardcross and PGS World Cup hits the slopes of the Telluride Ski Resort this week. Athletes, media, family and friends from around the world began arriving in Telluride last week, for training and upcoming competitions.
Athletes include Olympic gold medalist Seth Wescott (Sugarloaf, ME), Olympic silver medalist Lindsey Jacobellis (Stratton, VT), five time X Games gold medalist Nate Holland (Squaw Valley, CA), X Games silver medalist Graham Watanabe (Sun Valley, ID), Olympic halfpipe gold medalist Ross Powers (Okemo, VT), Winter X games gold medalist Shaun Palmer and World Championship bronze medalist Nick Baumgartner (Iron River, MI).
The Today Show, the New York Times, the Ski Channel, NBC Nightly News, Yahoo Sports, the Associated Press and 9 News Denver were among the many journalists and film crews visiting this week to interview World Cup athletes in Telluride. Another round of international media begins arriving in Telluride today.
John Jett, Chief of Competition for the World Cup, is at the helm of the Competition and Events Department, and has continued to shape the superior courses for these exceptional athletes. The USSA's technical delegate, Mike Kirchner, is assisting John Jett and the Competition & Event Crew with the PGS and SBX course layouts. On Upper Misty Maiden, the PGS start has been built and the slope fine tuned with help from USSA's PGS Head Coach, Jan Wengelin.
Jeff Ihaksi, Olympic Course builder and high level SBX athlete, arrived in Telluride last week and is constructing and testing the upper portion of the SBX course. The lower Misty Maiden course will be reshaped into the World Cup SBX course on Saturday and all courses will be completed by Sunday.
The events begin Tuesday Dec. 15, as Telluride has assumed an additional PSG qualifier and final from Italy –cancelled in early Dec. due to lack of snow.  Both events will take place on upper Misty Maiden. Thursday, Dec. 17 - the PGS 2 Qualifiers and finals will be conducted on Upper Misty Maiden. On Friday, Dec. 18, both the SBX Men's and Women's qualifiers are followed by athlete welcoming, poster signings, and number distribution during a hot chocolate social on Telluride's Main Street.
Saturday, Dec. 19 - SBX final and awards in Mountain Village. Sunday, Dec. 20 concludes the 2009 World Cup with Team SBX finals. An awards ceremony immediately follows the race.
Check local newspapers for additional events and activities throughout the weekend. For more information on the Telluride World cup, go to www.tellurideworldcup.com.