Afr Amer Spirituals at The Crystal Cathedral Performed by Dr. Rosephanye Powell 1.10.10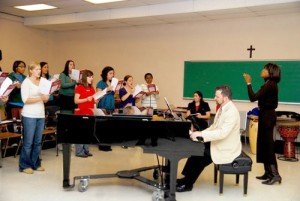 Award winning singer/composer Dr. Rosephanye (pronounced Roh-SEH-fuh-nee) Powell is committed to reviving the African-American spiritual and she has been making her mark where it matters most, across the American South, where the songs were born. Until now, on Sunday, January 10, Dr. Powell will be performing songs from her new album at the California megachurch, the Crystal Cathedral during its internationally televised "Hour of Power" at the 9:30 & 11:00 am services. Dr. Powell's new CD is entitled "Motherless Child" (Inkhorn Music), which is in digital release and can be purchased at CDBABY and at iTunes. The Crystal Cathedral is located at 12141 Lewis Street in Garden Grove, Orange County, CA.
Dr. Rosephanye Powell is unusually well qualified to understand the traditions and backstory of the African-American spiritual … she holds a Doctorate in Music for Vocal Performance and is a Professor of Voice in the Department of Music at Alabama's Auburn University. Rosephanye Powell is not a professor who sings, but a singer who also happens to be a professor, which is a very nimble combination given the need for proper historical perspective and musical precision in updating and explaining the significance of these powerful songs.
By reinvigorating these sacred songs with her beautiful voice and an infusion of contemporary arrangements and Jazz, Gospel and R & B influences, Dr. Powell has refreshed these songs for a new generation.