HoustonWorks USA and Schlumberger Help Prepare Students for 21st Century Workforce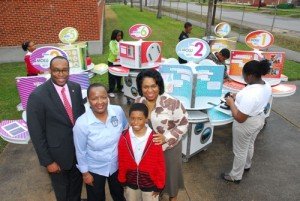 [caption id="attachment_3335" align="alignleft" width="300" caption="Larry V. Green, CEO of HoustonWorks USA; Ruby J. Andrews, Principal of Ryan Middle School; Marquies Brooks, eighth grade student at WALLIP; and Paula M. Harris, HISD Trustee, District IV. Participating in the exhibit (background) are students from Ryan Middle School and WALLIP-TSU Preparatory Academy. Ken Jones, Photographer"]
HoustonWorks USA and Schlumberger observed Engineers Week 2009 by sponsoring the Mobile Offshore Learning Unit (MOLU) for more than 500 students from five local elementary and middle schools.  Engineers Week 2009 (February 15-21, 2009) is a national observance founded in 1951 by the National Society of Professional Engineers (NSPE) dedicated to increasing the understanding of and interest in engineering and technology careers among young students.  The MOLU is an engaging traveling exhibit from the Offshore Energy Center, which features six self-contained learning centers with curriculum-based, hands-on activities about energy and the technologies and sciences involved with the oil and gas industry.  The curriculum is based on national and Texas state standards (TEKS).
"Schlumberger is proud to be a part of Engineers Week," said Paula M. Harris, director of community affairs for Schlumberger, and District IV Trustee of the HISD Board of Education.  "As we develop our next generation of highly skilled technical experts, we recognize that they must be able to compete globally.  Getting students excited about technology is the only way to start early preparation for a successful career path."
HoustonWorks USA and Schlumberger observed Engineers Week by hosting an opening ceremony at Ryan Middle School.  Following remarks by Harris, Larry Green, CEO of HoustonWorks USA, Ruby Andrews, principal of Ryan Middle School, and Amber Meuth, mobile unit program manager, students participated in the traveling exhibit.  Students will also participate in field trips to the City of Houston Wastewater Plant & Facility, and a Behind the Scenes Tour of the Hilton Americas Hotel.  The field trips are designed to provide hands-on experience and the opportunity to meet professionals in the engineering field.
According to Larry V. Green, Chief Executive Officer for HoustonWorks USA, "This is a particularly critical time for this type of initiative, as statistically the number of U.S. students studying science, technology, engineering and math is significantly lower than that of their counterparts from other countries."
"As we celebrate 25 years of service to the Houston community," Green continued, "HoustonWorks USA is committed to ensuring that our youth are properly educated, trained and exposed to careers leading to high-growth occupations, such as engineering."
The Education Committee of the Gulf Coast Workforce Board reports that the number of new electrical engineers needed in the Gulf Coast region is projected to increase by nearly 17 percent between 2006 and 2016.  Electrical engineers earn more than three times the region's average annual wage for all occupations, while chemical engineers earn more than twice the region's average annual wage. Estimates show that the Gulf Coast region would need to train more than 230 petroleum engineers every year from 2004 to 2014 to keep up with demand.  And, conservative estimates indicate the need for 305 new mechanical engineers each year in the Gulf Coast region.
Schools participating in Engineers Week activities include eighth grade classes from Ryan Middle School and the WALLIP-TSU Preparatory Academy, and fifth grade classes from Peck Elementary, Blackshear Elementary and J. Will Jones Elementary Schools.