Ovarian Cancer: Knowing the Symptoms & Your Body
Tonja Ward | 2/19/2009, 7:01 p.m.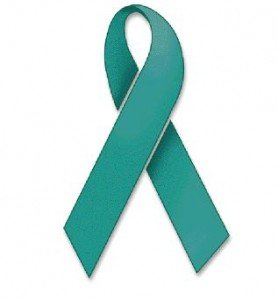 Ovarian cancer afflicts more than 22,000 women in the United States each year and claims the lives of more than 15,000. "As a daughter and a new mother, I was shocked to learn the facts about ovarian cancer," said Berry. "That's why I've teamed with the Callaway Golf Foundation and the Entertainment Industry Foundation to educate women about taking care of their health."
The number of women diagnosed with ovarian cancer in its early stages is so small, that survival rates continue to be low. Ovarian cancer mortality rates have remained stagnant for more than 30 years so raising awareness is essential.
Through $2 million in donations to EIF's Women's Cancer Programs, the Callaway Golf Foundation Women's Cancer Initiative, established at leading cancer institutions nationwide, works to fast-track breakthrough treatments and tests to beat this disease. The institutions selected for their groundbreaking work in ovarian cancer research and treatment include The University of Texas M.D. Anderson Cancer Center among other leading cancer centers across the nation. Led by Dr. Beth Karlan, Director of the Cedars-Sinai Women's Cancer Research Institute, this women's cancer initiative represents a collaborative, multi-site undertaking designed to advance treatment of ovarian cancer through molecular profiling, biomarker discovery and targeted therapy development.
"I lost my mom to ovarian cancer last fall," said Lisa Paulsen, president and CEO of the Entertainment Industry Foundation. "I made a promise to her and my dad, who also passed away from cancer – we won't stop until we remove cancer from our lives. I'm truly grateful for the enormous support we receive from the entertainment community, helping us raise much needed funds for crucial research to help find better ways to detect ovarian cancer early."
"I'm so pleased the Callaway Golf Foundation is standing behind this cause to raise awareness of ovarian cancer," said George Fellows, President and Chief Executive Officer of Callaway Golf. "We are enormously grateful to Halle Berry for serving as our ambassador and for leading the challenge as we all strive to educate women to learn their risk for this deadly disease."
The Callaway Golf Foundation will also host this year's celebrity golf tournament, the Callaway Golf Foundation Challenge, at the Riviera County Club in Los Angeles on December 15. Last year's tournament was a huge success, raising more than one million dollars with all proceeds benefiting EIF's Cancer Research Programs.
Symptoms of ovarian cancer include:
q Bloating
q Pelvic and abdominal pain
q Difficulty eating or feeling full quickly
q Urinary symptoms (urgency or frequency)
See your physician if you have these symptoms almost daily for more than a few weeks.
For more information or to learn how to get involved in the cause, please visit www.ovariancancer.org and www.callawaygolffoundation.org