Komen Houston Affiliate Ranks Number One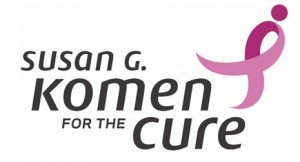 In 2008/2009 the Komen Houston Affiliate awarded a total of $3,443,298including $92,730 for Education, $2,233,378 for Screening and $1,107,190 for treatment.
In the Affiliate's 19 year history, it has granted $5.2 million for research nationally and $15.8 for community grants in Harris, Fort Bend, Chambers, Montgomery, Brazoria, Liberty and Galveston counties.  The Affiliate's grant award process ensures the impartial allocation of funds to qualified 501c3 organizations helping countless breast cancer survivors and their families get the treatment and support they need.
"This ranking is not only an indication of the work being done at Komen Houston, it is also a wonderful reflection of hope for those who depend on us as we depend on Houston to help fund life saving education, screening, and treatment programs," said Adriana M. Higgins, Ed.D., Executive Director.
The Komen Houston Affiliate was established in 1990 and in addition to funding research through the Susan G. Komen for the Cure Award and Research Grant Program, the Affiliate underwrites innovative breast cancer education, screening and treatment projects for the medically under-served in its community.
The Komen Houston Race for the Cure®, the Affiliate's largest fundraiser, attracted a record 30,000 participants in October 2008 despite following Hurricane Ike by just a few weeks. The Affiliate attributes the Race's phenomenal success to its 1,800 members and volunteers who helped get the word out after the devastation and confusion in the aftermath of the hurricane.
"One of the reasons we are successful is because we are very conscious of every expense so we are able to give back as much as possible towards our vision which is a world without breast cancer," said Heather Shirk Patrick, Director of Operations. "We truly are the best stewards of the money donated to us so we are able to contribute in both good economic times and bad."
The grant amounts for the 2009/2010 year will be announced at the end of March 2009.
More information about the 2009 Komen Houston Race for the Cure®, membership, volunteering and Komen Houston Affiliate activities is available at www.komen-houston.org , or by calling the Komen Houston Affiliate office at (713) 783-9188.