Remembering Quentin R. Mease
JGoode | 2/27/2009, 6 p.m.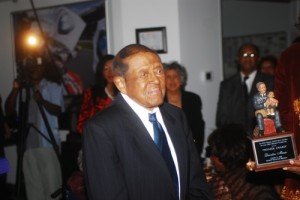 "Death is not the greatest loss in life. The greatest loss is what dies inside us while we live," said Norman Cousins. Luckily, Houstonians cannot say that about Quentin R. Mease. During his life, this 100-year-old man was full of life and his legacy has impacted his and many generations that followed.
While still asleep at Memorial Hermann Hospital, Quentin R. Mease made the transition from his Earthly home to his heavenly home on Tuesday, February 24, 2009. He had recently fallen which resulted in a broken hip. Mease was also suffering with pneumonia at the time of his death.
Widely known for his work with the YMCA, the Harris County Hospital District and the Urban League, Mease was just recognized by the National Association for the Advancement of Colored People Houston Chapter's 100th year celebration.
Originally from Iowa, Mease moved to Houston in 1948 to lead one of Houston's YMCA centers. He began work with YMCA while in Iowa. When he was 19 he was elevated from volunteer to the position of executive director of the Crocker Branch YMCA. Clark Baker, president of the YMCA of Greater Houston, told the Houston Chronicle, "He was never one to take a back seat. He marched up front. He led up front. He leaves us with a legacy of service, and Houston and the world, are better places because he was here." As head of the YMCA in those days Mease became a civil rights leader fighting the injustices for all. It was through his work that he helped to establish the Houston Area Urban League, the Eliza Johnson Home for the Aged, and the Houston Council on Human Relations. The establishment of these organizations helped Mease tear down the wall of legal segregation, which ended peacefully because of his work. Mease was instrumental in this progression for African Americans.
Before his move to Houston to blaze the trails of injustices, Mease made his mark on the battlefield. Under General MacArthur, Captain Mease served in the United State Army Air Corps during World War II. His squadron landed at Hiroshima one week after the atomic bomb dropped in 1945.
Mease was also extremely active in the Harris County Hospital District. As one of seven on the first governing board for the district in 1966, Mease was the chairman for 19 years. "Mr. Mease was a continuing inspiration to us all for his unfaltering commitment to enhancing health care services in our community," said Hospital District President David S. Lopez to employees in a prepared message. Lopez added, "His compassion for others and his emphasis on exceptional patient care are hallmarks of his legacy to our organization." Numerous facilities and streets are named in his honor, one being the Quentin R. Mease Community.
His wife, Jewell, succeeded him in death.