It's Girl Scout Cookie Time!
JGoode | 1/9/2009, 5:30 p.m.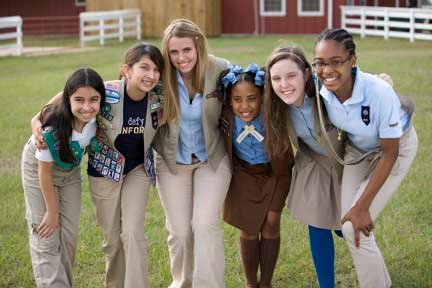 The Girl Scout cookie program, which begins Jan. 10, is a familiar part of American culture. For more than 80 years, Girl Scouts, with the enthusiastic support of their families, have participated in the country's premiere entrepreneurial and economic literacy program. In fact, many successful businesswomen today say they got their start selling Girl Scout cookie
Girls gain confidence, as well as communication and business leadership skills that will benefit them throughout their lives. At an early age, girls learn to develop marketing strategies, deliver business presentations and increase their customer base. The cookie program teaches girls about teamwork, goal-setting and fiscal responsibility. Many troops set goals to raise money to help the community or to supplement troop activities, like a visit to Girl Scouts founder Juliette Gordon Low's birthplace in Savannah, Georgia. The sale helps girls fund their favorite activities, earn recognitions and in some cases, pay for camp.
"The Girl Scout cookie program is run by girls, for girls," says D'Anne Hawk, GSSJC product sales director. "It is one of very few youth-oriented programs in the country that provides its participants the opportunity to decide how to direct the proceeds generated through their business activity."
All of the revenue earned through the Girl Scout cookie program benefits our community and local Girl Scouts. Among other things, at the Council level, proceeds are used to provide financial assistance to girls, maintain campsites, keep camp and program fees at a minimum, and support special initiatives, such as offering Girl Scout programs in underprivileged communities like public housing facilities and detention centers.
The skills girls learn − all while having fun and making friends − will truly last a lifetime! So next time you hear, "Would you like to buy some Girl Scout cookies?" know that your support is developing future leaders who will make the world a better place! And don't worry about blowing your budget or New Year's resolution. Cookies are still $3.50 per box and have zero grams of trans fat per serving.
Beginning Feb. 20, Girl Scout troops will sell cookies outside your neighborhood grocery stores.
Girl Scouts of the USA is the world's preeminent organization for girls, with a membership of more than 3.5 million girls and adults. Girl Scouting builds girls of courage, confidence, and character, who make the world a better place. Chartered by GSUSA to provide Girl Scouting locally, Girl Scouts of San Jacinto Council is one of the largest Girl Scout councils in the country serving more than 64,000 girl members and 18,000 adults in 26 southeast Texas counties. For more information call 1-800-392-4340 or visit www.gssjc.org.